By Heather Listhartke
Do you find that during the winter months you simply feel a little off? A combination of holiday weight gain, the cold weather and perhaps not being as active as you were in the warmer months, can make you feel blah all winter long. You simply don't feel like you look your best. One way to boost your spirits is to get a new hairdo and why not consider a hairstyle that will flatter your face and make you look thinner.
Here are 10 hairstyles that can give you more slender appearance.
Asymmetrical Bob
If you have short hair or are thinking of going short, an asymmetrical bob is a great option. An asymmetrical bob means your hair is short in the back and longer in the front. Parting your hair in the middle allows your hair to frame your face in the same way that long hair does and makes you look slimmer by elongating your face.
Wispy Bangs

Add wispy bangs to your do, rather than heavy or blunt bangs. The blunter the bangs the more your face will look rounder. On the other hand, if you fringe the bangs shorter in the middle and longer on the edges, you'll get the slimming look you desire.
Face-Framing Layers
Like long hair and asymmetrical bobs, having face framing layers will elongate your face for a slimming look. Keep the layers long so that they fall below your chin. It will make your jawline look lower and your face longer and thinner.
Part to the Side
Whatever your hairstyle, parting it off to the side will create a look that softens your face by creating an off-center effect. This makes your face look less round. In combination with long layers or an asymmetrical bob, you could really give off a thinner persona.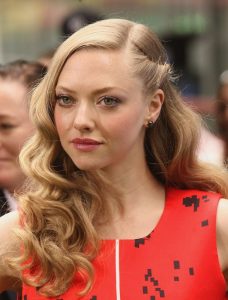 Up-do With 'Flyaways'

Ever wondered why someone would style their hair in some kind of up-do, but then leave bangs or hair out on the sides, a.k.a. flyaways? It's to soften and frame your face. 
Vertical Up-Do

A vertical up-do is also a good way to add length. The height of your hair allows you to look thinner and slim down by drawing the eye upward.
Wavy/Curly Hair
Giving your hair a wavy or curly affect is another great way to make your face appear thinner. Long, loose, voluminous waves that frame your face can narrow your look. 
Highlights

Highlights are always a way to not only look younger but also bring light to your appearance. The brighter color creates vertical, slimming lines. The key is to concentrate highlights more on the top layers with darker shades underneath.
Texture is a great way to make you look slimmer. You can go edgy and keep the longer layers by creating a mid-length shaggy bob. Texture and movement tend to make your face look sllimmer, while blunt cuts make the face look fuller and rounder.
Go Long
Long hair tends to look more slenderizing than short hair. If you have short hair, you can consider extensions and if you already have long hair, consider some of the other options listed above like adding texture and highlights to revamp your long locks.
This beauty advice is brought to you by A Moments Peace Salon & Day Spa. Call them at 615-224-0770 or visit them at 9050 Carothers Pkwy.