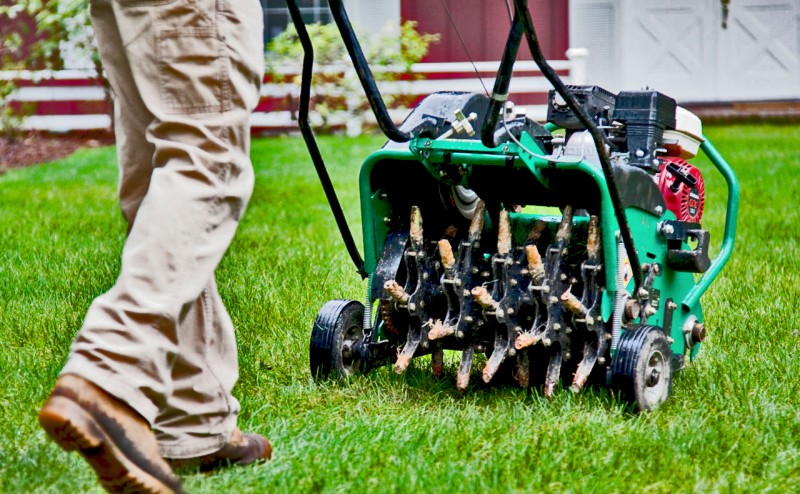 You may have seen neighbors aerating their lawn and wondered "should I do that?"
Aeration is not needed for every yard, but for certain yards, it is a great way to keep your lawn healthy and attractive.
What is Aeration and Why Do It?
Aeration is like medicine for your grass. Grassroots need air, water and nutrients to be strong and grow deep and that's what aeration does. The aeration process involves making small holes in the ground to allow air, water and nutrients to reach the grassroots, giving you a more robust and healthy lawn.
Now that you know what aeration is, how do you determine if your lawn needs it?
"Aeration is the antidote to heavily compacted soil, which may be present on a lawn that gets very heavy foot traffic, or which is planted on a soil base that is heavy in clay content," writes Kelly Burke with thespruce.com.
Ask yourself if your lawn gets heavy use (either from foot traffic or vehicles). If so, your lawn has probably compacted over time and aeration could be a great solution. The DIY Network provides this great tip "Using a shovel, dig a square-foot section of grass about six inches deep and examine. If the grassroots don't extend further than two inches deep into the soil, your lawn would benefit from aeration."
How to Aerate My Lawn?
To aerate your lawn, you need some special tools, which you may not have readily available in your garage.
The most efficient solution is to rent a lawn aerator. Locally, Franklin Rental has several options. They have a Ride-On Core Aerator, Walk-Behind Core Aerators, Pull Behind Core Aerator and a 3-Point Hitch Core Aerator, all available for rent. You can rent these for anywhere from 4 hours to a month. Learn more here.
When Should I Aerate My Lawn?
Experts advise aerating your lawn when the ground is cooler.
"The very best time to aerate is in the fall when the temperatures have cooled off, when the weed pressure is minimal, and when grass is actively growing," writes Burke.
Franklin Rental is located at 1561 Columbia Ave, Franklin, TN 37064. Contact them at (615) 790-7860 for your rental needs.