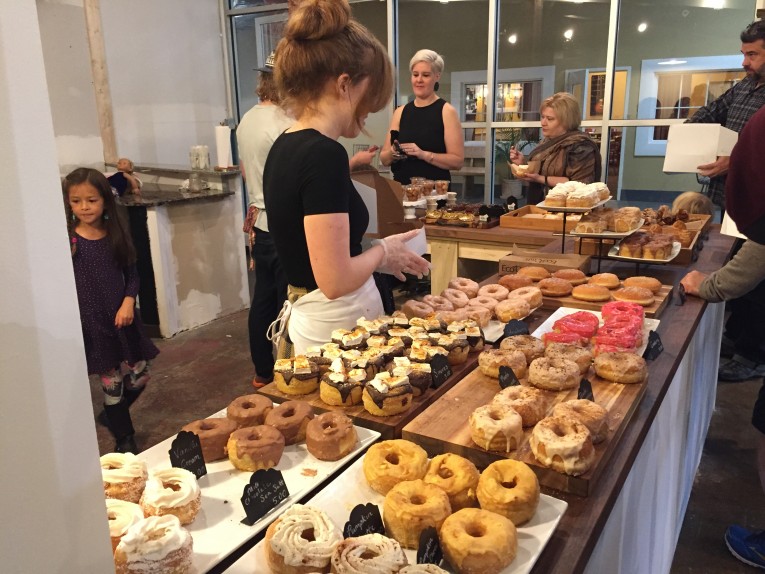 Five Daughters Bakery is a family business, owned and operated by Isaac and Stephanie Meek along with their five daughters in Franklin, Tennessee.
The 100 Layer Donut is the Five Daughters Bakery version of a cronut. It is a delicious hybrid of a croissant and a donut and takes up to three days to craft this decadent creation.
Once cooked, the 100 layer donut is rolled in sugar, filled with cream, and topped with a heavenly glaze. This is one experience you will want to have more than once.
FIVE DAUGHTERS BAKERY
615-933-9332
230 Franklin Rd, Franklin, TN 37064
Monday-Friday: 7AM – 5PM (or till sold out)
Saturday: 8AM – 5PM (or till sold out)
Sunday: Closed
View Five Daughters Bakery Menus
Learn more about Five Daughters here
---
Watch the Donut Cam!
Offers for you
Support our publication by shopping here
Soltea
Improve Your Heart Health with All-Natural Soltea Daily Supplement – Click Now to Save 25% Off Your First Order
All-Natural Heart Health Supplement – Save 25% Now

CodeMonkey
Coding for kids! Introducing programming games for the next generation. Get your kids coding today.
Start with a free trial.

Truebill
Lower your bills and stay on top of your financial life with Truebil, the app that helps you save every day.
Take control & start saving money!

Tally
Overcome your credit card debt with Tally. Consolidate and save money while you pay it down.
Get started with Tally today.
Gabi
The easiest way to compare and save on home and auto insurance. Match coverage, compare rates and save.
Find hundreds in savings now!

Brigit
Know your spending habits, anticipate overdrafts, and get up to $250. Only takes 2 minutes. No credit check.
Get your finances on track.

Acorns
Acorns helps you grow your money. Take control with all-in-one investment, retirement, checking and more.
Get a $5 bonus when you sign up.

Grow Credit
Grow Credit is a free Mastercard you can use to pay your subscriptions while you build credit.
Start building your credit today!