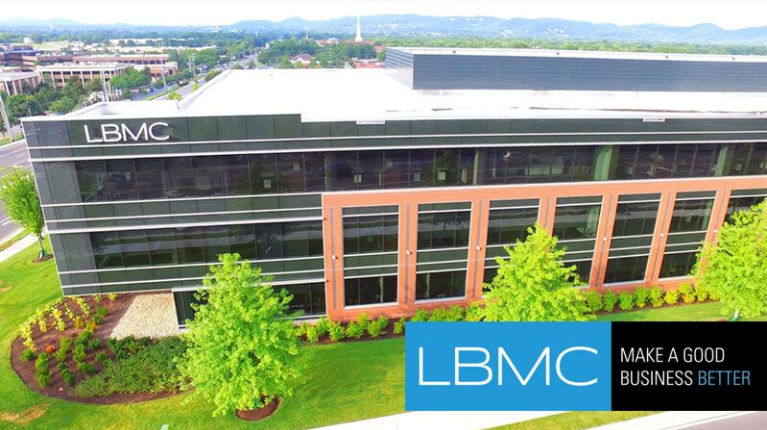 LBMC, like Brentwood, has been experiencing massive growth. As you drive down Franklin Road, you can't help but see their new building on the corner of the Hill Center development. Having outgrown their previous building, they saw new offices as an opportunity to refresh and to modernize their space.
This desire to stay current has been a huge part of LBMC's growth, along with being in the right place at the right time, and their strong desire to provide their clients with the latest services and technology to make their businesses run more smoothly.
In an interview with LBMC CEO Jeff Drummonds, he shared some of the company's history and philosophy with Williamson Source as part of Brentwood 50th Anniversary Celebrations.
WS: Please tell us a little about how LBMC got started?
JD: David Morgan and Mike Cain founded LBMC in 1984 as a traditional accounting firm with a simple mission: to serve a great group of clients and enjoy doing it. While our initial services were tax and audit, our focus has always been on providing solutions for our clients. We chose to diversify so we could meet the needs of our clients as they evolved.
We learned early on that to be successful, we had to recruit strong leadership. As we were able to do that, we continued to add new entities that could provide the services our clients needed.
Our role as trusted advisor has remained steadfast over the years, and our relationship with our clients is as strong as it was 35 years ago. We are always asking how we can help our clients improve their businesses, and as entrepreneurs, we are guided by these questions:
What do our clients need?
Can we do it well?
Will they buy it from us?
We provide integrated solutions under one umbrella, and that allows us to truly be an advisor for our clients' businesses at a strategic level.
WS: You are coming up on 20 years with the company. What are some of the most exciting changes you have seen happen in your industry during this period?
I've seen numerous changes during my tenure at LBMC. Some of the most exciting include our diversity in leadership roles, in particular women…[F]ive of the last nine new shareholders are women. Other women in leadership include our Chief Marketing Officer, and heads of multiple service lines.
Another exciting change is our expanded expertise in technology. We were recently named a "Best Firm in Technology" by Accounting Today…Through increased efficiencies and better processes, technology allows us to even better serve in the trusted advisor role.
WS: You have seen rapid growth as Nashville grows. What changes has the growth brought about?
JD: While Nashville's rapid growth has created both opportunities and challenges, we have undoubtedly benefited from the thriving economy. Healthy competition ensures we always bring our A game, which in turn solidifies our relationships with both our clients and our employees.
By providing an exceptional culture for our employees to set ourselves apart from other options in the marketplace, we are able to bring in experts who are second to none. We hire top talent, then we have created a strong learning and development program to build the leaders of tomorrow.
Also, Nashville's growth has resulted in new service line opportunities for us, including transaction advisory services, physician business solutions, physician compensation and valuation, forensic accounting, and most recently, data analytics – to name a few.
WS: Tell me a little about your personal business philosophy?
JD: My role as CEO is to maintain our culture and ensure we have the resources and initiatives in place to allow us to achieve our vision of making LBMC the best choice for clients and colleagues. It starts with people and developing trusted relationships. In our business, it's about much more than numbers –being engaged and willing to listen and share insight is vital.
We are focused on attracting top talent who really care about our clients and our culture, creating an entrepreneurial environment to ensure we stand at the forefront of technological innovation, and continuing to deliver comprehensive business solutions every day. We are also very involved in the community, like Brentwood's 50th Anniversary Celebration.
WS: With all of your growth, do see your business staying in Brentwood?
While our offices are located in Brentwood, Knoxville and Chattanooga, we have national practices in multiple service lines, including healthcare, technology solutions, and information security. In addition, we have employees who work remotely across the country. Our state-of-the-art technology allows them to do that seamlessly.
We serve clients nationally – because our clients have grown outside of Tennessee. But we see Nashville as home.