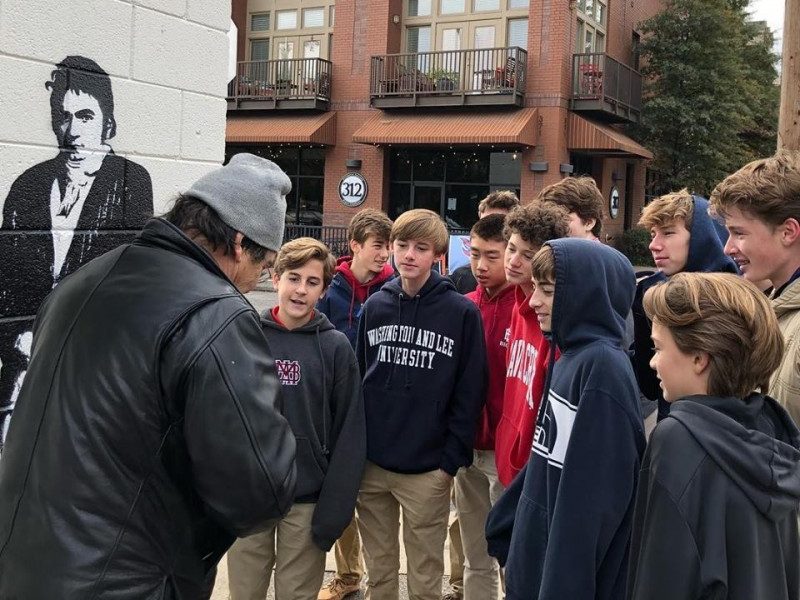 The number of murals in Nashville has grown over the years from the "Wings" in the Gulch to "I Believe in Nashville" on 12th South.
Now, it's adding one more by famed French graffiti artist Blek La Rat, who visited Nashville last week, reports NPR. 
Known for his stencil work, Rat paid homage to Music City by spray painting a young Beethoven on the side of a coffee shop located at 4th Avenue North and Monroe Street in the Germantown area.
Rat came to Nashville by invitation of the private school Montgomery Bell but told NPR he preferred to visit Nashville over New York.
"I really prefer to be in Nashville than in New York, because in New York if you do something on the street, nobody cares. Here it's completely different," Blek Le Rat told NPR "They have a real interest."
On Blek La Rat's Facebook page, he documented his time in Nashville by posting photos of several artworks he completed at Montgomery Bell Academy as well as the coffee shop in Germantown. Take a look at the photos below. Currently, Rat is in Waco painting.
Offers for you
Support our publication by shopping here
Soltea
Improve Your Heart Health with All-Natural Soltea Daily Supplement – Click Now to Save 25% Off Your First Order
All-Natural Heart Health Supplement – Save 25% Now

CodeMonkey
Coding for kids! Introducing programming games for the next generation. Get your kids coding today.
Start with a free trial.

Grow Credit
Grow Credit is a free Mastercard you can use to pay your subscriptions while you build credit.
Start building your credit today!

Tally
Overcome your credit card debt with Tally. Consolidate and save money while you pay it down.
Get started with Tally today.

Acorns
Acorns helps you grow your money. Take control with all-in-one investment, retirement, checking and more.
Get a $5 bonus when you sign up.

Brigit
Know your spending habits, anticipate overdrafts, and get up to $250. Only takes 2 minutes. No credit check.
Get your finances on track.

Truebill
Lower your bills and stay on top of your financial life with Truebil, the app that helps you save every day.
Take control & start saving money!
Gabi
The easiest way to compare and save on home and auto insurance. Match coverage, compare rates and save.
Find hundreds in savings now!