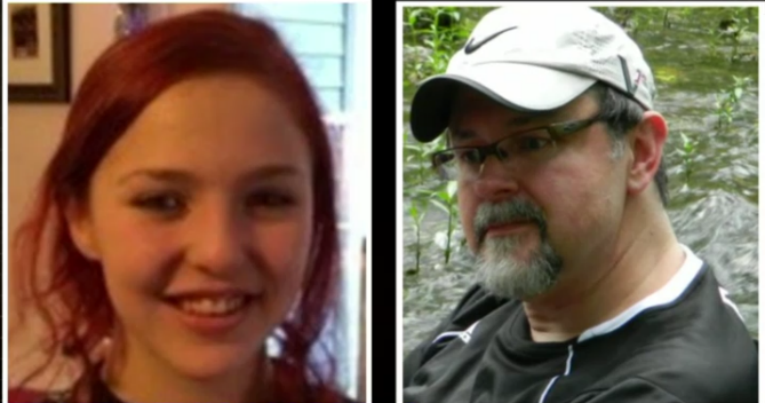 In a press conference Tuesday morning, the TBI  said they will not stop looking for Elizabeth Thomas, who has been missing since March 13th. They believe the 15-year-old of Columbia, TN is believed to be with 50-year-old Tad Cummins, her health science teacher at Culleoka High School. District Attorney General Brent Cooper said Cummins and Elizabeth could be in Mexico or Central America.
Elizabeth was last seen on the 13th at Shoney's in Columbia, where a friend dropped her off around 7:30-7:45am. Cummins is believed to be armed with two handguns and was seen via surveillance camera at a gas station in Columbia filling up his silver Nissan Rogue shortly before Elizabeth went missing. The Nissan Rogue has Tennessee tag 976-ZPT. Although experts believe they could be in a different vehicle by now, the TBI asks that if anyone spots this vehicle to try to safely snap a photo and call 911.
Cummins was added to the Tennessee Bureau of Investigation's most-wanted list on March 17, facing charges of aggravated kidnapping, which were added to charges of sexual contact with a minor.
Descriptions & Photos
Elizabeth is a 15-year-old white female, with blonde hair, hazel eyes, stands 5' and weighs 120 pounds. She was last seen wearing a flannel shirt and black leggings.
Cummins is a 50-year-old  white man, who stands 6'00" and weighs approximately 200 pounds. He has brown hair and brown eyes.
The TBI would urge the public to remain vigilant and report any information that may prove beneficial in the ongoing search to 1-800-TBI-FIND. If you spot the vehicle and can verify the license plate to be TN 976-ZPT, call 911 immediately.
[scroller style="sc1″ title="More on the Elizabeth Thomas Case" title_size="17″ display="tags" tags="elizabeth-thomas" number_of_posts="8″ auto_play="5000″ speed="300″]