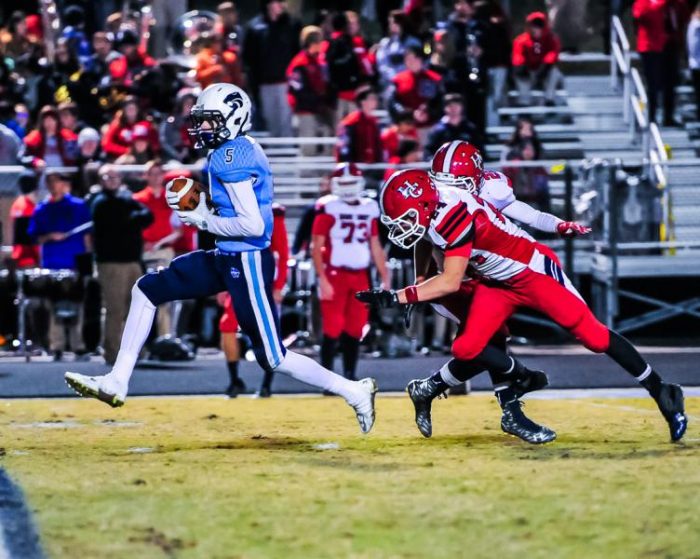 By Sam McGaw
Centennial returns to the gridiron on the heels of its best season in program history. However, with a new coach and a few returning starters, there's plenty of uncertainty surrounding the Cougars in 2016.
Former Forrest head coach Matt Kriesky inherits the program following the departure of Brian Rector, who left for Father Ryan after five seasons at CHS.
Rector led the Cougars to a 12-2 record last season, with both losses coming against eventual state champion Independence.
With several key players gone from last year's run, it's an uphill battle for the young Cougars.
"Youth and inexperience will play a huge role this year," said Kriesky, who went 17-6 with back-to-back playoff appearances in two seasons at Forrest. "All we ask is for these young men to go out and compete each week, one game at a time."
Cougars' Offense
There's a three-way competition to determine who will lead Centennial's spread attack at quarterback this season.
Senior Senturian DuReaux (6-foot, 173 lbs) brings the only experience to the position. He completed 8 of 27 passes for 157 yards, one touchdown and three interceptions last season, while also rushing for 102 yards and two touchdowns.
He's competing with juniors Jackson Sullivan (5-10, 180 lbs) and Tre Stewart (5-11, 174 lbs).
Kriesky said DuReaux will be used in a variety of roles.
"We'll probably use him also at receiver and we'll put him at quarterback in the Wildcat and other positions," he said."
The Cougars lost two big playmakers at running back with the departures of Mondu Sawyers and Class 5A Mr. Football winner Tyrel Dodson (Texas A&M).
Sawyers recorded 1,392 rushing yards and 13 touchdowns last season, while Dodson registered 549 rushing yards and 16 touchdowns.
Junior John Carter (5-11, 175 lbs) and senior Zyon Lee (5-8, 176 lbs) are the front-runners to replace the duo in the backfield.
Carter accounted for 230 rushing yards and two touchdowns last fall.
Wide receiver is the area with the most stability for Centennial, with seniors Devious Christmon (6-3, 176 lbs) and Austin Waddell (6-0, 162 lbs) returning to starting roles.
Christmon earned all-region honors last season after catching 32 passes for 544 yards and three touchdowns.
Waddell had 22 grabs for 391 yards and four touchdowns.
Juniors Tavion Fleming (5-11, 133 lbs) and Tremond Coffee (5-8, 155 lbs) may also see time in the receiving corps.
Spearheading the offensive line is senior guard Eli Katina (6-2, 271 lbs), who was an all-state selection and the region's offensive lineman of the year last season.
Senior Ryan Staples (6-2, 218 lbs) and junior Hayes Morrow (6-3, 224 lbs) will line up at tackle, sophomore Jacob Spears (5-10, 182) will anchor the line at center, and senior Nolan Daniel (6-1, 193) will play guard.
Cougars' Defense
Only a handful of key contributors return to starting roles for Centennial's 3-4 defense.
Up front, senior defensive end Nick Bell (6-1, 230 lbs) looks to build on his 2015 season in which he registered 39 tackles, three sacks and two forced fumbles.
Katina, Trevor Jones (6-0, 220 lbs), Connor Tremayne (6-3, 210 lbs) will also see work on the defensive line.
Seniors Clay Carder (5-8, 180 lbs) and Tony Wall (5-11, 189 lbs) look to pick up the slack at linebacker following the departure of Dodson, who had 111 tackles (32 for loss),  eight sacks, two interceptions and one fumble recovery a year ago.
Carder enters his third year as a starter at inside linebacker. He was second on the team in tackles last season with 88. He also had five sacks, two interceptions, two forced fumbles and one fumble recovery.
"If [Carder] was any bigger, I'd say he'd be getting a lot of looks from a lot of places," Kriesky said. "This guy will run through a wall for you. I'm highly impressed with him and the things he's been doing."
Wall, an outside linebacker, had 58 tackles, four sacks, one forced fumble and one fumble recovery.
Ryan Newby (6-2, 168 lbs) and Josh Rowan (5-10, 184 lbs) will see reps at outside linebacker, while Ryan Farley (5-6, 175 lbs) and Lee will work on the inside.
In the secondary, Christmon, Fleming and Coffee will play cornerback, and Waddell, DuReaux and sophomore Jariel Wilson (5-11, 160 lbs) will play safety.
Christmon was tied for a team-high five interceptions last year, while Waddell had three.
Overview
After losing several starters from a year ago, Kriesky knows his team is a work in progress.
"One thing we keep telling our players is we don't have to win the state championship today," he stated. "It's a process. We just have to get better each day.  We want to see improvement week to week."
Centennial opens the season with a road contest against cross-town rival Franklin on Aug. 19.
Franklin head coach Donnie Webb was Kriesky's football coach at Henry County.
"I learned a lot from playing for Coach Webb," Kriesky said. "He has a huge impact on my life. He's one of the reasons I got into this profession. I'll probably be about 10 times more nervous than he will.
"He's a heck of a coach and a heck of a person."
After taking on Class 6A Franklin, Centennial returns home to host defending Class 5A champion Independence.
Indy handed CHS both of its losses last season, including a 56-15 defeat in the state semifinals.
"Those first two games are not the two games you want to open up with," Kreisky said.  "They're both going to be a huge test for us and our youth in a lot of areas."
Other big matchups for the Cougars include a showdown at Ravenwood on Sept. 9, a home region contest against Brentwood on Oct. 14, and a road battle against region foe Henry County to close the season on Oct. 28.