April 24th, 2015 – Williamson County Weekend Gardener
Many of us here in Williamson County already have vegetable gardens well underway.  Companion planting flowers with your vegetables not only adds visual appeal to the garden, it can also have some practical benefits like deterring pests and encouraging beneficial insects.  A recent article identified 10 flowers to grow with vegetables.

Read The Full Article:  Companion Planting: 10 Flowers to Grow with Vegetables
1.  Standard Marigolds
Marigold petals are a trending addition to salads, and if you grow the single-flowered varieties they will often self-seed the following year.
2.  Nasturtium
Nasturtium is one of those flowers that always looks like it belongs in a vegetable garden.  Both the leaves and flowers are edible, and they attract caterpillars like crazy.
3.  Poached Egg Flower
The ultimate flower to grow around any crops that need pollinating.
4.  Daisies
At a time when we're desperate to save bees, daisies are one of the best plants to attract them to your garden.
5.  Agastache
This is an awesome perennial I use prolifically here in Williamson County because it doesn't mind the Summer heat/drought and it looks amazing.  It's available in blues, pinks, and purples — and very easy to grow.
6.  French & African Marigolds
These seem to be popular with bees, and they deter aphids by attracting hoverflies to eat them.  Pungently aromatic, they are also believed to repel nematodes in the soil.
7.  Scorpion Weed
It's real name is Phacelia, and it makes a perfect soil improvement when you turn it under at the end of the season.
8.  Clover
Clover is a legume, meaning it is in the same family as peas and beans.  It improves nitrogen levels that feed your vegetable plants.
9.  Cosmos
Easy to grow from seed or transplants; available in lots of colors.
10.  Comfrey
Great ground cover for shade, with beautiful blue flowers.
So give flowers a shot in your vegetable garden this year; not only for the added beauty, but for improved pollenation, fewer insects, and better, healthier soil.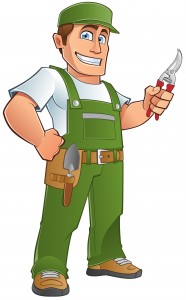 Williamson County Gardening Resources:
Williamson County Master Gardeners Association
Save The Date:  Master Gardener's Plant Sale
              Williamson Cty Ag Expo Center
              Saturday, May 9th 9a-3p
Williamson County Extension Office
Williamson County is in USDA Hardiness Zone 7a (0 – 5 degrees)
USDA Plant Hardiness Zone Map
Previous Articles:
04/17/15 – Homemade Weed Killer Recipe
04/10/15 – 5 Ways to Get Soil Ready for Spring
04/03/15 – Stop Topping Crape Myrtles
03/27/15 – Free Wildflower Seeds
03/20/15 – 5 Plants Anyone Can Grow
03/13/15 – 5 Ways to Get Back Outside