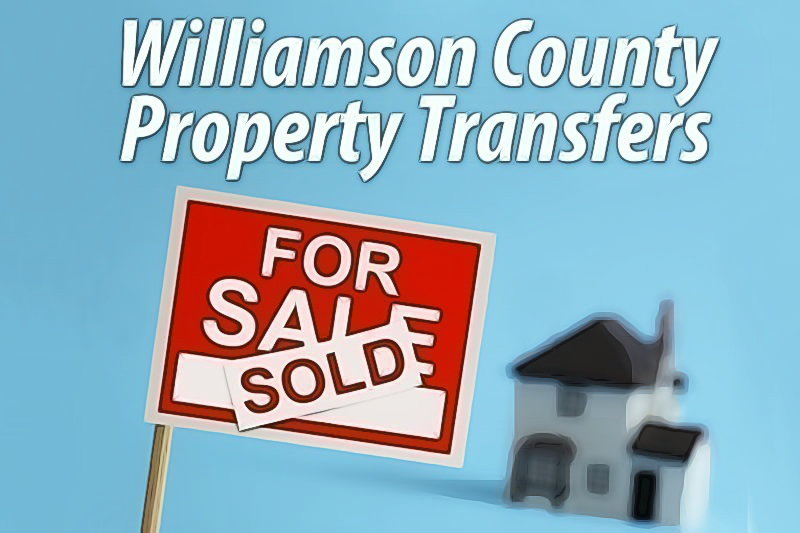 See where houses sold for March 2-6, 2020, and for how much in the most recent Williamson County property transfers. For more information about purchasing a home, click here to contact Susan Gregory with Parks Realty. View previous property transfers here
| Price | Subdivision | Address | City | State | Zip |
| --- | --- | --- | --- | --- | --- |
| 499900 | Brixworth | 2033 Friendship Dr | Spring Hill | TN | 37174 |
| 340000 | Magnolia Place | 912 Brink Pl | Franklin | TN | 37064 |
| 277000 | | 7929 Daugherty-Capley Rd | Primm Springs | TN | 38476 |
| 660000 | Country Club | 7014 Country Club Dr | Brentwood | TN | 37027 |
| 295000 | Haynes Crossing | 3340 Monoco Dr | Spring Hill | TN | 37174 |
| 346000 | Wades Grove | 1047 Belcor Dr | Spring Hill | TN | 37174 |
| 367000 | Wakefield | 3022 Romain Trl | Spring Hill | TN | 37174 |
| 395000 | Aspen Grove | 256 Seaboard Ln #C102 | Franklin | TN | 37067 |
| 269900 | Westhaven | 806 Cheltenham Ave | Franklin | TN | 37064 |
| 505000 | Harpeth Woods | 4146 Jensome Ln | Franklin | TN | 37064 |
| 464900 | Nolen Mill | 405 Lively Way | Nolensville | TN | 37135 |
| 117180 | Falls Grove | 7237 Sky Meadow Dr | College Grove | TN | 37046 |
| 101449 | Stream Valley | 2012 Fernshaw Ln | Franklin | TN | 37064 |
| 453117 | Falls Grove | 7176 Sky Meadow Dr | College Grove | TN | 37046 |
| 478155 | Waters Edge | 4007 Mainstream Dr | Franklin | TN | 37064 |
| 350000 | Firestone @ Cool Springs | 1055 Firestone Dr | Franklin | TN | 37067 |
| 1056523 | Sloan | 4844 Bethesda Rd | Thompsons Station | TN | 37179 |
| 364000 | | 1103 Waller Rd | Brentwood | TN | 37027 |
| 315000 | Tressie | 7407 Old Nashville Rd | Fairview | TN | 37062 |
| 130000 | | Old Hwy 96 | Franklin | TN | 37064 |
| 496400 | Amelia Park | 1314 Fairbanks St | Franklin | TN | 37067 |
| 492500 | Bridgeton Park | 1271 Wheatley Forest Dr | Brentwood | TN | 37027 |
| 659900 | Highlands @ Ladd Park | 2061 Hornsby Dr | Franklin | TN | 37064 |
| 1007718 | Foxen Canyon | 2424 Los Olivos Ct | Franklin | TN | 37069 |
| 398501 | Franklin Green | 3166 Brimstead Dr | Franklin | TN | 37064 |
| 635000 | Brookfield | 2044 Valleybrook Dr | Brentwood | TN | 37027 |
| 666492 | Clovercroft Preserve | 9208 Stepping Stone Dr | Franklin | TN | 37067 |
| 814500 | Bridgemore Village | 3817 Pulpmill Dr | Thompsons Station | TN | 37179 |
| 251850 | Petra Commons | 272 Mary Ann Cir | Spring Hill | TN | 37174 |
| 457400 | Arbors @ Autumn Ridge | 4079 Miles Johnson Pkwy | Spring Hill | TN | 37174 |
| 770000 | Raintree Forest | 9489 Waterfall Rd | Brentwood | TN | 37027 |
| 430000 | Dallas Downs | 190 Heathersett Dr | Franklin | TN | 37064 |
| 1148000 | Tuscany Hills | 1743 Ravello Way | Brentwood | TN | 37027 |
| 350000 | | 5525 Alex Rd | Franklin | TN | 37064 |
| 419000 | Wades Grove | 1025 Rudder Dr | Spring Hill | TN | 37174 |
| 635000 | Bridgemore Village | 3119 Pleasantville Brdg Rd | Thompsons Station | TN | 37179 |
| 790000 | Watkins Creek | 3491 Stagecoach Dr | Franklin | TN | 37067 |
| 469990 | Tollgate Village | 2289 Maytown Cir | Thompsons Station | TN | 37179 |
| 814567 | Brienz Valley | 2219 Brienz Valley Dr | Franklin | TN | 37064 |
| 79000 | Anglin Michael & Lora | Bending Chestnut Rd | Franklin | TN | 37064 |
| 4000 | Harpeth Meadows | Lancaster Dr | Franklin | TN | 37064 |
| 526432 | Tollgate Village | 2150 Maytown Cir | Thompsons Station | TN | 37179 |
| 276000 | Spring Hill | 2235 Jo Ann Dr | Spring Hill | TN | 37174 |
| 629434 | | Shetland Ln | Spring Hill | TN | 37174 |
| 488197 | Brixworth | 1122 Brixworth Dr | Spring Hill | TN | 37174 |
| 324900 | Wyngate | 2122 Ieper Dr | Spring Hill | TN | 37174 |
| 518000 | Green Valley | 115 Poplar St | Franklin | TN | 37064 |
| 235000 | Woodside | 4981 Paddy Tr | Spring Hill | TN | 37174 |
| 2120006 | Preserve @ Echo Estates | 1204 Echo Ln | Franklin | TN | 37069 |
| 618285 | Foxglove Farm | 4019 Foxglove Farm Dr | Franklin | TN | 37064 |
| 563700 | Westhaven | 818 (2090, 2096 & 2116) Cheltenham Ave | Franklin | TN | 37067 |
| 706885 | Westhaven | 3054 Hathaway St | Franklin | TN | 37064 |
| 609063 | Westhaven | 3037 Cheever St | Franklin | TN | 37064 |
| 689891 | Brooksbank Estates | 404 Barony Ct | Nolensville | TN | 37135 |
| 1475000 | | 8116 Horton Hwy | Arrington | TN | 37014 |
| 765000 | Saratoga Hills | 9318 Chesapeake Dr | Brentwood | TN | 37027 |
| 501008 | Fields Of Canterbury | 3004 Weeping Willow Ln | Thompsons Station | TN | 37179 |
| 320000 | Fields Of Canterbury | 1585 Hampshire Place | Thompsons Station | TN | 37179 |
| 545000 | Eagles Glen | 521 Foxcroft Cir | Franklin | TN | 37067 |
| 709900 | Scales Farmstead | 1817 Apperley Dr | Nolensville | TN | 37135 |
| 586450 | Dallas Downs | 117 Medford Place | Franklin | TN | 37064 |
| 423900 | Bent Creek | 1280 Maybelle Pass | Nolensville | TN | 37135 |
| 364900 | Rizer Point | 4025 Viola Ln | Franklin | TN | 37069 |
| 283500 | Shannon Glen | 1708 Whitt Dr | Spring Hill | TN | 37174 |
| 425000 | Mistye Meadow Farms | Long Ln | Franklin | TN | 37064 |
| 320000 | Wyngate | 2228 Hayward Ln | Spring Hill | TN | 37174 |
| 368000 | Crossing @ Wades Grove | 3015 Sommette Dr | Spring Hill | TN | 37174 |
| 900000 | Carriage Hills | 1735 Reins Ct | Brentwood | TN | 37027 |
| 647000 | Brittain Downs | 1533 Eden Rose Place | Nolensville | TN | 37135 |
| 599900 | Cherry Grove | 1569 Bunbury Dr | Thompsons Station | TN | 37179 |
| 314430 | Nolen Mill | 812 Cottage House Ln | Nolensville | TN | 37135 |
| 531940 | Nolen Mill | 1107 Madison Mill Dr | Nolensville | TN | 37135 |
| 490845 | Waters Edge | 4055 Flowing Creek Dr | Franklin | TN | 37064 |
| 448385 | Wades Grove | 6018 Spade Dr | Spring Hill | TN | 37174 |
| 1156083 | Foxcrest | 9402 Arthur Ct | Brentwood | TN | 37027 |
| 462235 | Fields Of Canterbury | 2405 Sturry Cove Dr | Thompsons Station | TN | 37179 |
| 672000 | Kings Chapel | 4058 Kings Camp Pass | Arrington | TN | 37014 |
| 411000 | Bent Creek | 4965 Maxwell Landing Dr | Nolensville | TN | 37135 |
| 281200 | Spring Hill | 2102 Spring Hill Cir | Spring Hill | TN | 37174 |
| 1012000 | Water Leaf | 5033 Water Leaf Dr | Franklin | TN | 37064 |
| 237000 | Water Leaf | 5104 Water Leaf Ct | Franklin | TN | 37064 |
| 661800 | Scales Farmstead | 1044 Lawson Ln | Nolensville | TN | 37135 |
| 289000 | Aston Woods | 2909 Ocoee Ct | Thompsons Station | TN | 37179 |
| 270000 | Mckays Mill | 1940 Turning Wheel Ln | Franklin | TN | 37067 |
| 496345 | Highlands @ Ladd Park | 842 Ryecroft Ln | Franklin | TN | 37064 |
| 513000 | Concord Green | 1300 Parker Pl | Brentwood | TN | 37027 |
| 581129 | Bushnell Farm | 2060 Bushnell Farm Ln | Franklin | TN | 37064 |
| 640000 | Brookfield | 9961 Lodestone Dr | Brentwood | TN | 37027 |
| 440000 | Bent Creek | 6167 Christmas Dr | Nolensville | TN | 37135 |
| 589000 | Westhaven | 107 Gladstone Ln | Franklin | TN | 37064 |
| 54800 | Harpeth Health Group | Hillsboro Rd | Franklin | TN | 37069 |
| 1550 | Harpeth Health Group | Hillsboro Rd | Franklin | TN | 37069 |
| 575000 | Mckays Mill | 1217 Broadgate Dr | Franklin | TN | 37067 |
| 390000 | | 4338 Old Hillsboro Rd | Franklin | TN | 37064 |
| 343000 | Falcon Creek | 2052 Upland Dr | Franklin | TN | 37067 |
| 685000 | Telfair | 143 Telfair Ln | Nolensville | TN | 37135 |
| 598000 | Cool Springs | 409 Tinnan Ave | Franklin | TN | 37067 |
| 420000 | Crowne Pointe | 1904 Loughborough Ct | Thompsons Station | TN | 37179 |
| 449900 | Arbors @ Autumn Ridge | 3044 Elkhorn Place | Spring Hill | TN | 37174 |
| 425000 | Harpeth Meadows | 154 Lancaster Dr | Franklin | TN | 37064 |
| 621500 | Bridgemore Village | 3674 Martins Mill Rd | Thompsons Station | TN | 37179 |
| 898052 | Bridgemore Village | 3639 Ronstadt Rd | Thompsons Station | TN | 37179 |
| 998340 | Stephens Valley | 803 Carsten St | Nashville | TN | 37221 |
| 564946 | Arrington Retreat | 735 French River Rd | Nolensville | TN | 37135 |
| 497745 | Brixworth | 706 Rain Meadow Ct | Spring Hill | TN | 37174 |
| 764000 | Kings Chapel | 4144 Banner Square Ln | Arrington | TN | 37014 |
| 479900 | Highlands @ Ladd Park | 134 Circuit Rd | Franklin | TN | 37064 |
| 555000 | West | 108 Breaker Cir | Brentwood | TN | 37027 |
| 588000 | Scales Farmstead | 644 Vickery Park Dr | Nolensville | TN | 37135 |
| 337500 | Fieldstone Farms | 36 Prescott Pl | Franklin | TN | 37069 |
| 370000 | Gateway Village | 1219 Moher Blvd | Franklin | TN | 37069 |
| 190000 | Smith Dewey | Taylor Rd | Fairview | TN | 37062 |
| 389900 | Silver Stream Farm | 3081 Canal St | Nolensville | TN | 37135 |
| 720000 | | 4116 New Hwy 96 W | Franklin | TN | 37064 |
| 1220000 | Windstone | 1023 Falling Leaf Cir | Brentwood | TN | 37027 |
| 279513 | Petra Commons | 241 Mary Ann Cir | Arrington | TN | 37014 |
| 526036 | Mcdaniel Estates | 7216 Ludlow Dr | College Grove | TN | 37046 |
| 948500 | Mcdaniel Estates | 114, 203, 206, 231, 236, 237 & 243 Balcolm Ct | College Grove | TN | 37046 |
| 430000 | Spring View | 402 Spring View Dr | Franklin | TN | 37064 |
| 150000 | Smith Dewey | Taylor Rd | Fairview | TN | 37062 |
| 321198 | Wades Grove | 4000 Madrid Dr | Spring Hill | TN | 37174 |
| 480000 | Harpeth Meadows | 142 Lancaster Dr | Franklin | TN | 37064 |
| 290000 | Newport Crossing | 1004 Watauga Ct | Thompsons Station | TN | 37179 |
| 650000 | Stonebridge Park | 229 Bramerton Ct | Franklin | TN | 37069 |
| 599900 | Arrington Retreat | 1205 Bobwhite Trl | Nolensville | TN | 37135 |
| 242300 | Thompson | 7213 Horn Tavern Rd | Fairview | TN | 37062 |
| 621000 | Brittain Downs | 1608 Eden Rose Place | Nolensville | TN | 37135 |
| 875000 | Kings Chapel | 4605 Majestic Meadows Dr | Arrington | TN | 37014 |
| 344900 | Keegans Glen | 425 Knob Ct | Franklin | TN | 37064 |
| 355000 | Fieldstone Farms | 1261 Summer Haven Cir | Franklin | TN | 37069 |
| 285900 | | 5340 Hargrove Rd | Franklin | TN | 37064 |
| 574915 | Scales Farmstead | 237 Broadgreen Ln | Nolensville | TN | 37135 |
| 735000 | Westhaven | 200 Fitzgerald St | Franklin | TN | 37064 |
| 1400000 | Laurelbrooke | 5516 Iron Gate Dr | Franklin | TN | 37069 |
| 278000 | Haynes Crossing | 3701 Ivanora Dr | Spring Hill | TN | 37174 |
| 1100000 | Westhaven | 1525 Championship Blvd | Franklin | TN | 37064 |
| 305000 | Highlands @ Campbell | 1072 Misty Morn Cir | Spring Hill | TN | 37174 |
| 292000 | Swansons Ridge | 1900 Eli Ln | Franklin | TN | 37064 |
| 424900 | Fieldstone Farms | 1326 Summer Haven Cir | Franklin | TN | 37069 |
| 277400 | West End Circle | 610 West End Cir | Franklin | TN | 37064 |
| 150000 | Enclave @ Dove Lake | Thayer Rd | Nolensville | TN | 37135 |
| 499999 | Highlands @ Ladd Park | 2013 Beamon Dr | Franklin | TN | 37064 |
| 1100000 | Cool Springs | 322 Haddon Ct | Franklin | TN | 37067 |
| 305799 | Cameron Farms | 2109 Iroquois Ct | Thompsons Station | TN | 37179 |
| 577400 | Nolen Mill | 1148 Madison Mill Dr | Nolensville | TN | 37135 |
| 1650000 | Windstone | 847 Windstone Blvd | Brentwood | TN | 37027 |
| 508034 | Mcdaniel Estates | 7208 Ludlow Dr | College Grove | TN | 37046 |
| 569900 | Mckays Mill | 1013 Vincent Dr | Franklin | TN | 37067 |
| 601765 | Summerlyn | 2069 Belsford Ln | Nolensville | TN | 37135 |
| 564000 | Willowsprings | 611 Janice Ct | Franklin | TN | 37064 |
| 287000 | Wyngate | 2004 Trenton Dr | Spring Hill | TN | 37174 |
| 519900 | Spring Hill Place | 1389 Round Hill Ln | Spring Hill | TN | 37174 |
| 845000 | Westhaven | 5133 Donovan St | Franklin | TN | 37064 |
| 679166 | Mcdaniel Farms | 6567 Windmill Dr | College Grove | TN | 37046 |
| 620000 | Mcdaniel Estates | 7201 Ludlow Dr | College Grove | TN | 37046 |
| 439900 | Tollgate Village | 2852 Americus Dr | Thompsons Station | TN | 37179 |
| 2826500 | Cool Springs Market | 2050 Mallory Ln | Franklin | TN | 37067 |
| 260000 | Mccord | 7169 Cox Pk | Fairview | TN | 37062 |
| 950000 | Westhaven | 440 Wild Elm St | Franklin | TN | 37064 |
| 930000 | Belle Rive | 6018 Belle Rive Dr | Brentwood | TN | 37027 |
| 584900 | Lockwood Glen | 504 Lockwood Ln | Franklin | TN | 37064 |
| 700000 | Raintree Forest | 9486 Highwood Hill Rd | Brentwood | TN | 37027 |
| 827000 | Kings Chapel | Majestic Meadows Dr | Arrington | TN | 37014 |
| 535000 | Highlands @ Ladd Park | 88 Molly Bright Ln | Franklin | TN | 37064 |
| 499900 | Arbors @ Autumn Ridge | 1007 Alpaca Dr | Spring Hill | TN | 37174 |
| 535000 | Mcdaniel Estates | 7125 Blondell Way | College Grove | TN | 37046 |
| 420000 | Founders Pointe | 204 Founders Pointe Blvd | Franklin | TN | 37064 |
| 218000 | | 2099 Hemlock Dr | Spring Hill | TN | 37174 |
| 605000 | | 4044 Old Hillsboro Rd | Franklin | TN | 37064 |
| 625000 | | 159 Wise Rd | Franklin | TN | 37064 |
| 1800000 | Carolina Close | 126 Patricia Lee Ct | Franklin | TN | 37069 |
Offers for you
Support our publication by shopping here
Soltea
Improve Your Heart Health with All-Natural Soltea Daily Supplement – Click Now to Save 25% Off Your First Order
All-Natural Heart Health Supplement – Save 25% Now

Greenlight
Raise financially-smart kids with a card that lets you control how they use it.
Get a debit card for your kids, managed by you

CodeMonkey
Introducing programming games for the next generation.
Coding for kids.

Grow Credit
Grow Credit is a free Mastercard you can use to pay your subscriptions while you build credit.
Start building your credit today!

Brigit
Know your spending habits, anticipate overdrafts, and get up to $250. Only takes 2 minutes. No credit check.
Get your finances on track.
Gabi
Match coverage, compare rates and save.
How to knock hundreds off your home and auto insurance in minutes

Acorns
Acorns helps you grow your money. Take control with all-in-one investment, retirement, checking and more.
Get a $5 bonus when you sign up.

Tally
Consolidate your debt and save money while you pay it down...
Overcome your credit card debt