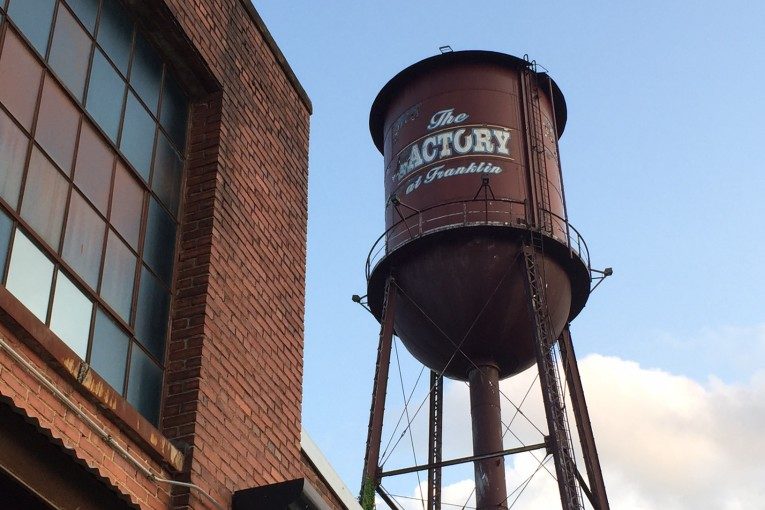 The Factory at Franklin was once home to Magic Chef, and then later to Jamison Bedding company.  It was a place where people gathered day in and out to create, build and supply the community with needed commodities. Today, you can still see the faded writing on the bricks as you enter Building 11 but the past has not been completely erased as The Factory moves forward.
Over two years ago, The Factory at Franklin had a change in ownership along with management. New management has a vision for The Factory at Franklin that looks to preserve the past, creating that epicenter where people gather, cooking up ideas, sharing their lives over meals and moreover making it a destination for those who live in Williamson County and beyond.
We had the opportunity to sit down with the management at The Factory at Franklin to get answers to some of the questions you've told us you wanted to know. We think that you will be pleasantly surprised.
Will Mafiazo's still open this year?
Yes, Mafiazo's is still on track to open in September. As with any building project, there are permits, zoning  proceedings that must be filed.  All of those processes take time but they are doing their due diligence to ensure everything is done correctly.   Once that process complete, the project will be well underway.
Speaking of September, will the Factory take part in The Pilgrimage Festival?
We are very excited about the Pilgrimage Festival coming to our neighbors across the street at Harlinsdale. We have been approached by The Pilgrimage Festival about parking,  currently have approximately 1200 parking spaces. At this time,  we are reserving those for our tenants. However, we are excited about the opportunities to work with The Pilgrimage Festival and who knows there might be more to talk about it at a later date.
Can you give us any insight as to what we can expect from The Factory in the future?
The Factory is a mission driven event space where we want to encourage  creative food, retail, and performing arts. A place where artisans affect what is displayed. We set out to source locally owned retailers along with locally owned restaurants.
If you are looking for performing arts, The Factory is now home to Studio Tenn, Music City Roots, and  the former Boiler Room Theatre which we were told is  currently under renovations increasing seat capacity by 25 % making it a state of the art facility.
Other visible changes at The Factory- Saffire is under renovation to bring  a better dining experience, Honest Coffee Roasters has recently opened,  CR-71, Relek, Franklin Juice Company and City Farmhouse Pop-Up Shows have taken residence at The Factory.  Relek has grown from a small space to adding an additional space to now moving into one very large space across from Third Coast Clay.
The Factory is like an adolescent on the cusp of growing into an adult.  Lots of potential for growth and change but change often takes time; however, the future looks very bright for those looking to spend more time at The Factory.  If you haven't  been there lately, just take time out to enjoy the comfy chairs and seating area behind the lobby.  A perfect place to enjoy your cup of coffee, meet people and take in the historic presence of the building.
The Factory management tells us there is more exciting news on the way but we have  to be patient.  Until then, you can find us hanging out at Honest Coffee Roasters eating our cronut watching Deann Hebert create her masterpieces, picking up a new treasure from Relek while we wait for one of the shows at Studio Tenn or Music City Roots.  Not a bad way to spend a day.
More Franklin News