When asking residents of Franklin what they like about the area, often is mentioned the schools, it's a great place to raise a family, and for those just moving to the area, it's all about the green space. As Franklin continues to grow, City of Franklin parks are in high demand for its residents.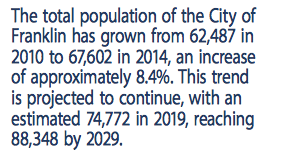 To meet the needs of a growing population and to continue to make the City an attractive place to call home for residents and businesses alike, the City of Franklin Parks Department initiated the development of a Comprehensive Parks and Recreation Master Plan.
To ensure the completion of the Park and Recreation Master plan draft represented the residents, it consisted of four components:
a series of focus group discussions
a public meeting
a statistically valid survey
presentations in the community related to the value of parks on quality of life, as well as on the Park Land Dedication Ordinance
Based on these four components, key observations were made:
Parks, recreation facilities, and open space are very important to the quality of life in Franklin.
Usage of parks and recreation areas is high, with high ratings for the condition of the parks.
City of Franklin Parks is the prime community provider of outdoor and indoor recreation services (which is interesting as the Department does not provide indoor facilities; this tells us that the residents do not recognize whether a facility located in the City is owned by the City or the County).
Very satisfied ratings with the overall value that the park system provides residents are high compared with the national benchmark.
Needs are high for a number of trails, open space, nature areas, and facilities.

87% – sidewalks for walking, biking and running
78% – paved trails linking parks, schools, etc.
77% – natural areas for open space
Needs are high for a number of parks and recreation facilities.

62% – indoor fitness and exercise facilities
55% – playgrounds
48% – outdoor swimming pools
Conservation of park resources is the most important development guideline in planning and developing parks.
In terms of funding their vision for the Franklin Parks system, the following were key observations from the survey:
Developing trails is most important initiative to fund.
Respondents support balanced approach for allocations of $100.

$30 for acquisition and development of walking and biking trails
$29 to maintain and improve parks and facilities
$18 for acquisition of park land and open space

A majority of respondents were either very willing or somewhat willing to pay some increase in taxes to fund the types of improvements most important to their households, with a high 'not sure' response.
As we can see from the survey, parks and open space is very important to the quality of life in Franklin.  And even with the current open space available, residents are seeking more!
Check back tomorrow as we continue our series on City of Franklins Parks where we will talk more about what new parks are proposed by the City of Franklin.
More Franklin News Here