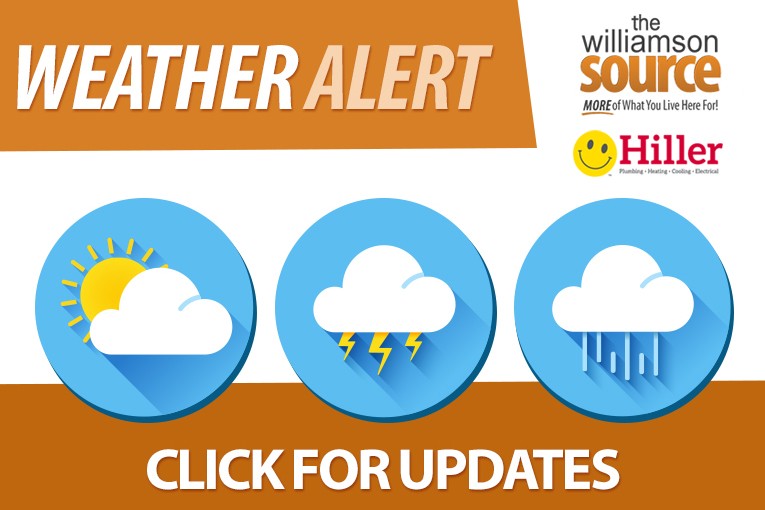 A strong storm system will approach Thursday, creating gusty south winds. Due to inclement weather, Williamson County Schools has canceled all field trips and extracurricular activities. They are monitoring the situation and working with emergency management officials on the timing and severity of the front and parents will be notified in the morning should there be any delay to school start times.
The main forecast concern is severe thunderstorms. This includes potential for damaging winds, large hail, and tornadoes. A powerful low-pressure system will move eastward through Thursday night. As this occurs, gusty south winds will develop, bringing increasingly unstable air into the region. Thunderstorms are expected to develop to our west late tonight, then gradually weaken as they move into Middle Tennessee early Thursday morning, perhaps beginning around 6am. Even with a weakening trend, there could be a few strong storms with gusty winds and
hail Thursday morning. But, the main concern is for the afternoon and evening.
If maximum potential is realized, we could have several supercells developing by mid-afternoon with tornadic
potential. If recovery is a bit more sluggish, storms may be more consolidated in the late afternoon and evening hours within clusters, but still damaging and still with some tornado potential. Given the uncertainties and possibilities, people should be advised to remain weather aware throughout the day.
Middle Tennessee is in the moderate and enhanced risk of severe thunderstorms Thursday.

WSMV predicts there will be two rounds of storms, the first during the early morning and the second in the afternoon. The morning storms "could meet severe criteria with damaging winds and large hail as the greatest threats," WSMV Meteorologist Daphne DeLoren writes. The afternoon storm "will be far more unstable — meaning stronger."
The National Weather Service has also issued a Wind Advisory from 12p-9p Thursday.
Get up-to-date weather news on our Weather Page.