A family comes together after the death of the patriarch of The Weston Family in 'August: Osage County'—a film adaptation of Tracy Letts' Pulitzer prize winning play of the same name.
Set in the sweltering August heat in Oklahoma, the drama is as hot as the weather. Sisters Barbara (Julia Roberts), Karen (Juliette Lewis) and Ivy (Julianne Nicholson) come together to help their ailing mother, Violet (Meryl Streep), who suffers from mouth cancer and, quite frankly, a horrible attitude. It's also insinuated that the death of Violet's husband's is her fault.
Because 'August' is based on a play, many of the scenes are longer than typical film scenes and the majority of the film takes place inside Violet's home, with many of the most dramatic scenes taking place at the kitchen table. Isn't that where most of the family drama happens? At first, this makes the film seem homey, like your peeking in on a family's intimate moment but the minute chaos ensues and accusations and insults start flying across the table, you begin to feel comfortable. The viciousness of the family is unbelievable at times and I begin to feel for the character of Jean (Abigail Breslin), Barbara's 14-year-old daughter. She's hardly been around these family members and my reaction to the family's dysfunction is comparable to hers.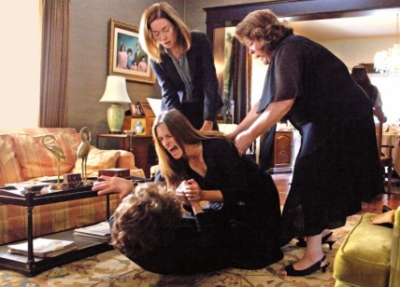 When all the fighting is finished, of which there is a lot, I just simply felt sad for The Weston's. Violet shares intimate stories of her terrible childhood, something she's yet to deal with, which causes her to behave the way she does, resulting in three strong willed grown daughters, who struggle with care for and about their mother.
Meryl Streep is always expected to deliver amazing performances. She's terrifying as Violet–a pill popping, mean, depressed old lady and she pulls at your emotions—making you hate her in one scene and making you want to take care of her during the next.
For me, Julia Robert's performance stands out over Meryl's. Barbara is constantly tormented by her mother over her choice to leave Oklahama. Violet goes as far as to say her father died because she wasn't around. On top of dealing with her crazy mother, she's separated from her husband (Ewan McGregor)—a fact that becomes public knowledge at the family gathering and her daughter is a little off the rails as well. As Barbara, she taps into all these different layers flawlessly and realistically. Of all the sisters, I feel she is the most relatable.
The cast is truly top notch. In addition to the stars of the film, Margo Martindale plays Violet's sister Mattie Fae, Dermot Mulroney is Karen's fast living fiancé, Chris Copper plays Margo's husband and Benedict Cumberbatch plays their son. Each has distinct characteristics that add to the family's wild dysfunction and, sometimes, their lovability.
'August'  is good but not great. Perhaps it's the play-like characteristics that make it a little dull at times. The actors are great but most definitely overwhelming. Washington Post critic Michael O'Sullivan described the film as 'claustrophobic,' and I think that's a perfect adjective. At the end of the film, I felt sorry for every single character—no single character left this family affair unscathed.
Both Meryl Streep and Julia Roberts are up for Academy Awards this year—Meryl for Best Actress and Julia for Best Supporting Actress. I think Meryl has a good shot at winning but, personally, don't think this performance is up to her previous Academy Award winning performances. Julia has some tough competition in her category, against Sally Hawkins of 'Blue Jasmine,' Jennifer Lawrence of 'American Hustle', June Squibb of 'Nebraska,' and Lupita Nyong'o of '12 Years a Slave.'