by Dr. David Rosen, President of O'More College of Design
My new friend Hannah Pechan, Director at Social Enterprise Alliance in Nashville, gave me a design challenge.
Hannah said: "Tell me your favorite product design and I will tell you mine."
Hers was Soma Filters, which are simple, functional, and sustainable.
SOMA uses its profits to provide its products to those who need safe drinking water. Their mission: to save the world from bad water.
Hannah's project upped the challenge.
My own first candidate was an African water purification system that had won Metropolis magazine's next generation design award in 2008. The Solar Water Disinfecting Tarpaulin is worn by African women to and from the communal well that might be miles distant and that was full of undrinkable, bacteria-ridden liquid. On their return, the women spread the tarpaulins on the roof of their houses, and the sun disinfected the water. A simple and elegant solution using a technology that is widely understood. The tarpaulin, however, is not particularly beautiful.
Then I thought about the simple, functional elegant everyday objects that surround us, like the button or textiles or the bowl or the needle or one of my all-time favorites, the hand warmed ice cream scoop—simple, elegant, and functional. But it lacks the social purpose (other than an ice cream social) that made the other design a bit better.
Ultimately, hI settled on this amazing little light bulb, which won a National Design Award.
Called SWITCH75, this bulb uses LED technology, provides 25,000 hours of illumination (about 25 years' worth), and consumes 85% less energy in creating that familiar incandescent light. The real revolution is that the bulb is part of a closed loop manufacturing system, which means that when you return a bulb to SWITCH (in 25 years) they will be able to use every single part to make a new bulb.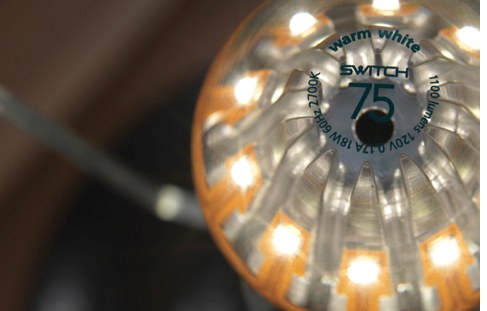 That is pretty awesome, but as I threw in the towel (another well-designed product), I wrote to Hannah that my product was much too complex, while hers was really simple, elegant, and functional and worked directly to help solve a world problem.
I think Hannah has a good challenge.
What do you think is the best designed product? You can send your answers to me at drosen@omorecollege.edu.
More O'More School of Design