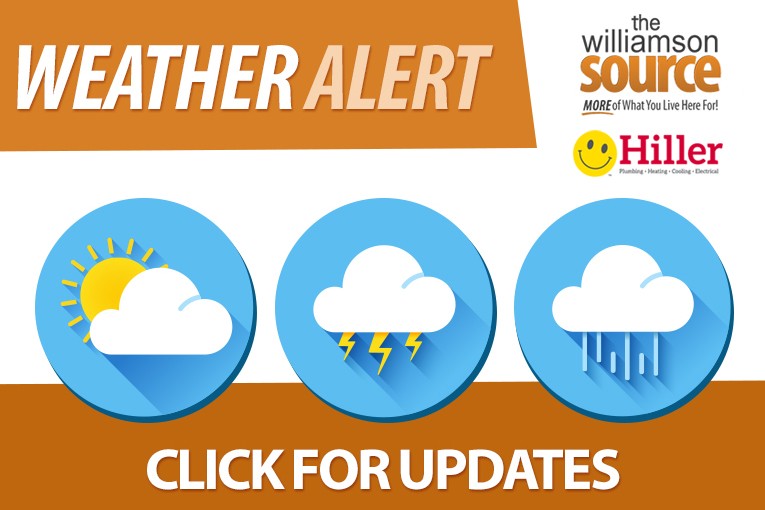 There is a severe thunderstorm watch in effect for Williamson County through 11 p.m.
The National Weather Service in Nashville has issued a Severe Thunderstorm Warning  here until 4:45 p.m.
At 406 PM CDT, a severe thunderstorm was located over Columbia,
moving east at 30 mph.
HAZARD…60 mph wind gusts and quarter size hail.
IMPACT…Hail damage to vehicles is expected. Expect wind damage
to roofs, siding, and trees.
* Locations impacted include…
Columbia, Spring Hill, Thompson`s Station, Chapel Hill, Eagleville,
Rover, Thompsons Station, I-65 East Of Columbia and Farmington.
PRECAUTIONARY/PREPAREDNESS ACTIONS…
For your protection move to an interior room on the lowest floor of a
building.
Tuesday
Some of the storms could be severe. The high temperature is near 77. Chance of precipitation is 80%.
Rainfall amounts between a quarter and half of an inch are possible.
Tonight
Showers and thunderstorms likely, mainly before 1am. Cloudy, with a low around 44. North northeast wind 10 to 15 mph, with gusts as high as 20 mph. Chance of precipitation is 60%. New rainfall amounts between a quarter and half of an inch possible.
Local hourly forecast
TIME
DESCRIPTION
TEMP
FEELS
PRECIP
HUMIDITY
WIND
Mostly Cloudy
75°
75°
64

%

NNW 5 mph

Mostly Cloudy
75°
75°
61

%

N 6 mph

Cloudy
75°
75°
61

%

N 6 mph

Cloudy
74°
74°
60

%

N 7 mph

Scattered Thunderstorms
72°
72°
60

%

N 7 mph

Thunderstorms
71°
71°
57

%

N 8 mph

Thunderstorms
67°
67°
65

%

N 10 mph

Thunderstorms
65°
65°
69

%

N 8 mph

Rain
62°
61°
79

%

NNW 11 mph

Rain
60°
59°
81

%

N 9 mph

Showers
58°
56°
80

%

N 10 mph

Showers
56°
54°
78

%

NNE 10 mph

Showers
55°
52°
81

%

NNE 9 mph

Cloudy
54°
50°
81

%

NNE 13 mph

Cloudy
53°
48°
78

%

NNE 13 mph

Cloudy
51°
46°
74

%

NNE 15 mph