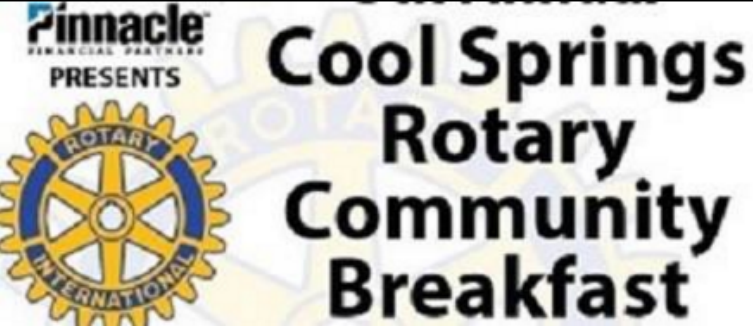 Join the Rotary Club of Cool Springs for its sixth annual Community Breakfast on Saturday, Feb. 27, 2016, from 7:00 a.m.-10 a.m. at The Sportsmans Lodge, 1640 Westgate Circle, Brentwood.
The event is sponsored by the Rotary Club of Cool Springs with support by Pinnacle Financial Partners and a host of other sponsors.
Breakfast will be served by Club members from 7-10 a.m. and tickets are $10 per person.
Funds from the event are used to fund the Arlene Peterson Memorial Scholarships benefitting vocational and technical students in Williamson County.
For more information on sponsorships or tickets, call (615) 794-0998.
The Rotary Club of Cool Springs meets on Mondays at noon at Pinnacle Financial Partners on Carothers Parkway.
[scroller style="sc1″ title="More Events" title_size="17″ display="cats" cats="17″ number_of_posts="12″ auto_play="5000″ speed="300″]