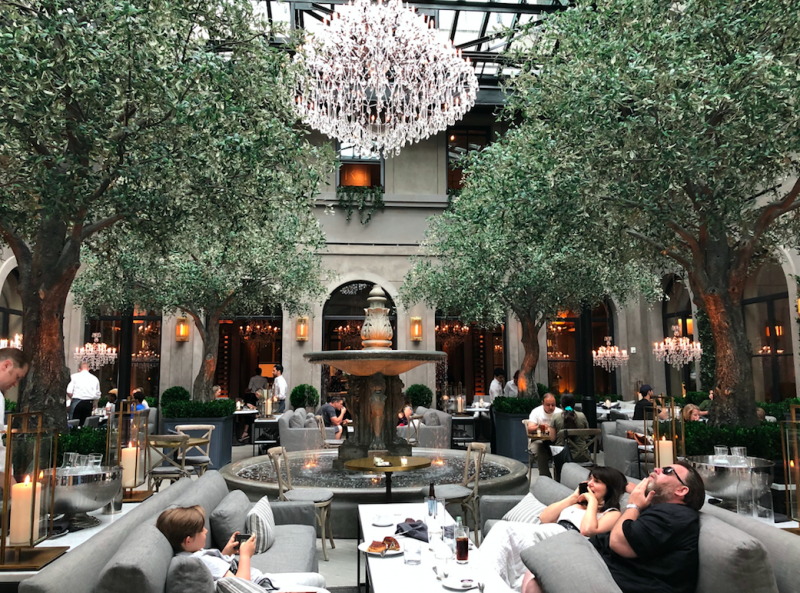 The luxurious home store Restoration Hardware has officially opened an impressive new store next to the The Mall at Green Hills. Restoration Hardware (now called RH Nashville, The Gallery at Green Hills) opened its four-story gallery with a ribbon cutting on June 15.
The store is located in the former Carabba's restaurant. As described by the Green Hills Mall on Facebook, RH Nashville is "a four-story, 70,000 square-foot design gallery that blurs the lines between residential and retail, indoors and outdoors, home and hospitality."
"Dine beneath a soaring glass atrium in the RH Café amid heritage olive trees, a grand crystal and iron chandelier and a 12-foot trickling fountain. Enjoy a handcrafted coffee from the Barista Bar or a glass of wine from the Wine Vault while you experience artistic installations of RH Interiors, RH Modern, RH Baby & Child, and RH Teen. Explore the expansive rooftop garden and conservatory showcasing RH's collections of RH Outdoor."
We visited RH Nashville over the weekend and we can tell you the store is breathtaking. Even if you aren't looking for furniture, it's a destination to admire the views from the cafe, the rooftop terrace, and enjoy food and drink from RH Hospitality. The menu offers comfort food of truffle grilled cheese sandwich, chocolate chip cookies along with breakfast, sandwich, and salad options. If that's not enough, the cafe is patterned after the RH Cafe in Chicago which the Chicago Tribune reported is one of the most Instagrammed Cafes in the U.S. We feel pretty certain that Nashville will follow in its footsteps.
Celebrities even attended RH Nashville's opening. Take a look at this Instagram video with actress Naomi Watts, Portia de Rossi, and Karen Elson attending the preview party.
The A List also posted photos from the unveiling party with Karen Elson, Kings of Leon, Naomi Watts, and Portia de Rossi.
RH Nashville is located at 2101 Green Hills Village Dr, Nashville, TN 37215.
Offers for you
Support our publication by shopping here
Soltea
Improve Your Heart Health with All-Natural Soltea Daily Supplement – Click Now to Save 25% Off Your First Order
All-Natural Heart Health Supplement – Save 25% Now

CodeMonkey
Coding for kids! Introducing programming games for the next generation. Get your kids coding today.
Start with a free trial.

Truebill
Lower your bills and stay on top of your financial life with Truebil, the app that helps you save every day.
Take control & start saving money!

Acorns
Acorns helps you grow your money. Take control with all-in-one investment, retirement, checking and more.
Get a $5 bonus when you sign up.

Grow Credit
Grow Credit is a free Mastercard you can use to pay your subscriptions while you build credit.
Start building your credit today!

Brigit
Know your spending habits, anticipate overdrafts, and get up to $250. Only takes 2 minutes. No credit check.
Get your finances on track.

Tally
Overcome your credit card debt with Tally. Consolidate and save money while you pay it down.
Get started with Tally today.
Gabi
The easiest way to compare and save on home and auto insurance. Match coverage, compare rates and save.
Find hundreds in savings now!