By Angela Roberts
Food Blogger, www.spinachtiger.com
Celebrate the Super Bowl with good friends and the right food and it almost doesn't matter who wins the game.
The best way to have a successful Super Bowl Party is to keep it easy.  A few recipes that are always crowd pleasers include guacamole,  bacon wrapped hot dogs, and for the vegetarians, sweet potato tacos, but don't be surprised at how popular they are, made with maple syrup and a little heat.  For the sweet tooth, serve salty, nutty Chocolate cookies that are better than brownies.
Authentic Guacamole. Fresh citrus brightens the avocado and the secret is not to over mix it, keeping it chunky.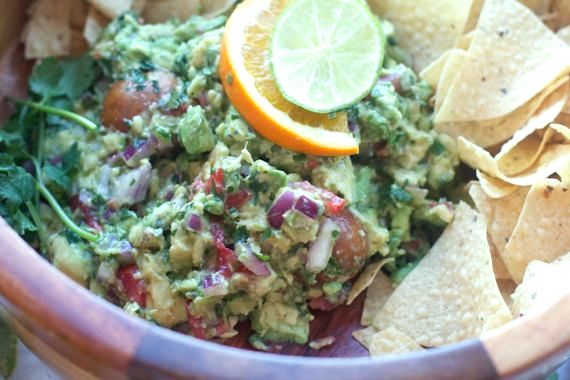 Recipe
Ingredients for Guacamole
Note: To make enough guacamole: use 1 avocado per person and adjust ingredients accordingly.
4 avocados
juice squeezed from ½ large orange
juice squeezed from one lime
sea salt, black pepper
½ purple onion, diced
1 small tomato, diced
handful of cilantro, chopped
1 serrano pepper, diced very finely (optional)
Instructions for Guacamole
Assemble the following into a bowl:
Peel avocados or carefully spoon out the flesh, keeping the avocado as intact as possible. Cut into large chunks.
Squeeze the juices of orange and lime over avocado.
Season with salt and pepper
Add in chopped onion, tomato, cilantro
Carefully mix together. You don't want the avocado turned into mush.
Season again with salt as needed, perhaps another squeeze of lime.
Serve immediately.
Everyone loves hot dogs and bacon. These are stuffed with cheese and wrapped with bacon.
Super Bowl Pig Out: Hot Dogs Wrapped in Bacon, Stuffed with Cheese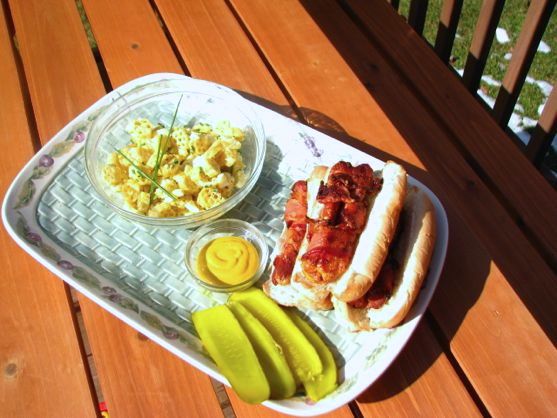 Ingredients
Hot Dogs
Buns
Grated Cheddar Cheese (1 tablespoon grated per hot dog)
Bacon (one slice of bacon per hot dog)
Instructions
Preheat oven and cast iron pan at 400 degrees.
You can use a baking stone or baking dish, but you will get the desired crispiness in the cast iron pan. Use a pre-heated pan; it should sizzle when you put the bacon-wrapped dogs in.
Grate cheese.
Slice hot down center, leaving it still in one piece. Stuff. Wrap in bacon. I don't use tooth picks, as they are harder to turn. just carefully turn and they should still stay together.
Check at 8 minutes. Turn at 8-10 minutes. Serve in toasted buns.
Southern Bell Sweet Potato Tacos  
Ingredients
2 sweet potato (or one very large)
1 -2 large shallots, sliced thinly (enough to sprinkle sauteed on 4 tacos)
1 tablespoon grapeseed oil (or oil of your choice or butter)
1 cup chopped red cabbage
¼ cup pecans (can use any nut of your choice, and can caramelize if you want to take this sweeter).
YOGURT SAUCE
½ cup plain yogurt
1 teaspoon maple syrup
¼ teaspoon dried chile peppers of your choice or ½ teaspoon sriracha sauce
4 raw tortillas
salt, pepper
Instructions
Bake sweet potato at 375 for 50-60 minutes until potato is soft. Peel, and slice to desired thickness.
Saute shallots in oil, until soft, golden. Add sweet potatoes and saute for a few minutes to brown.
Chop red cabbage finely. You can opt to toss it with the yogurt sauce or assemble in layers. I assemble in layers.
YOGURT SAUCE
Mix yogurt with maple syrup and hot sauce. Mix to your own taste, making it as sweet as you want or as spicy. I like little bit of a kick and not too sweet.
Season with salt and pepper
COOK TORTILLAS
If raw, 30 seconds on each side on griddle. If you have purchased cooked tortillas, grill until warmed through.
ASSEMBLE
Sweet potato, red cabbage, nuts, yogurt sauce
 For the serious vegetarian, here are three ways we love sweet potato tacos, and you could even set up a sweet potato taco bar.
Three Ways to Eat Sweet Potato Tacos

Plain Jane: Grilled tortilla and Sweet Potato, touch of butter or touch of olive oil, salt and pepper.
Tuscan Romeo: Sweet Potatoes, Kale Salad (made with olive oil, lemon, pecorino cheese and toasted almonds).
Southern Belle: Sweet Potatoes, shallots, toasted pecans or walnuts, crunchy red cabbage.
No Super Bowl party is complete without something chewy and chocolatey.
Salty Pecan Chocolate Cookies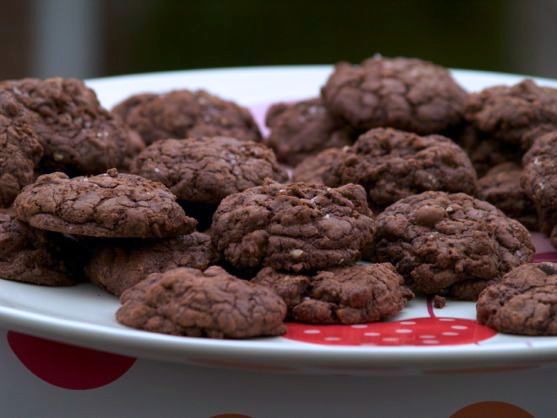 The chocolate cookie recipe can be found here at Spinach Tiger.