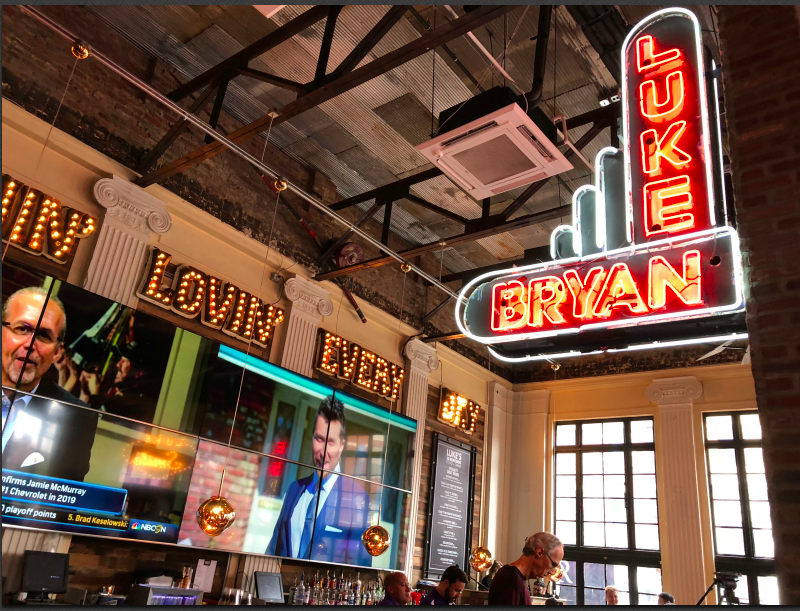 A large crowd gathered outside of Luke's 32 Bridge on Broadway in Nashville on Monday afternoon to celebrate the restaurant's grand opening.
Luke Bryan and his wife Caroline cut the camo ribbon just ahead of the free concert.
Just before Bryan spoke to the media, he performed for the first time inside 32 Bridge telling everyone he was christening the stage as he sang his current number one hit, "Sunrise, Sunburn, Sunset," his 21st number one hit written by Zach Crowell, Ryan Hurd, and Chase McGill.
"I've been looking forward to this for some time," said Bryan. "Couldn't think of a better way to kick this place off than to have a big party right on the streets of Broadway."
"To have a little stamp and a little piece… I just can't believe it's (Luke's 32 Bridge) come about this way." said Bryan. "I will never forget moving to Nashville and the first few things you do is go to the Ryman, go to the Grand Oly Opry, you to  Music Row and you go to Broadway and see the Honky Tonks you've read about for years. A couple of months into town, I played at Tootsie's on stage and I remember how fun it was."
Bryan also explained how he wants Luke's 32 Bridge to become part of the fabric of Broadway.
"We want to accentuate the history of Broadway. We don't want to interrupt the history of Broadway but add to it…I think it's so fun to look across the street and see Blake's bar. it's all about the country music fan experience… This is a way for tourists to come and connect with their favorite artist," said Bryan.
Throughout the bar, fans will recognize elements of  Bryan's popular songs. Behind the main bar on the first floor are the words "Huntin' Fishin' Lovin' Every Day" with a specialty drink menu with drinks like Country Girl, Drunk on You, Play it Again and Luke's favorite drink, Luke's Old Fashioned.
Above the stage suspended from the ceiling is a black Chevy truck which Bryan used on his 'That's My Kinda Night' tour. Bryan said the truck would have been sitting in a warehouse but now it's in view for fans to see.
Monday night Bryan closed Broadway as part of his Grand Opening celebration for a free concert. Opening acts for the concert included Jon Langston, DJ Rock, and Chelsea Field.
See photos of 32 Bridge below and read more about Luke Bryan's new bar here.