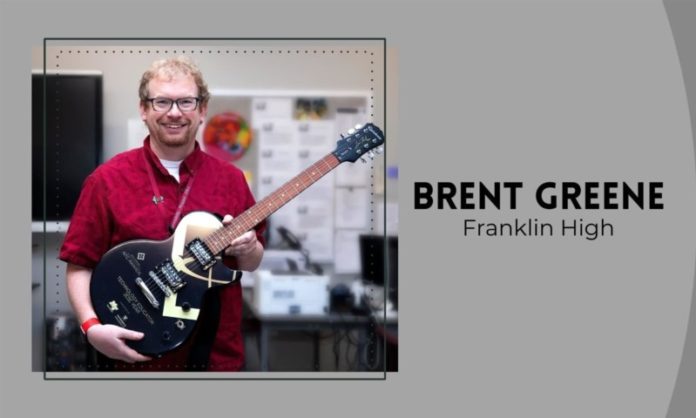 A Franklin High teacher is the inaugural recipient of the Nashville Technology Council's (NTC) Technology Educator of the Year Award.
FHS College, Career and Technical Education (CCTE) teacher Brent Greene received the award at the 12th Annual NTC Awards Ceremony April 15. The Educator of the Year Award goes to a K-12 teacher who shows exceptional dedication to and innovation in the advancement of technology education. Greene's work started with the introduction of the Autonomous Vehicles curriculum to Franklin High five years ago.
"It is humbling to be recognized for what you enjoy doing," Greene said. "I started the program from scratch. I met with the Massachusetts Institute of Technology (MIT) because they were working with autonomous vehicles at the time, but I didn't feel their material was challenging enough for what I wanted students to be able to accomplish. Since then, the program has grown to include cybersecurity."
In Greene's classes, students get the opportunity to pick which problems they want to solve, meet with mentors in the business world and build products. From beginning to end, the students are running the projects.
"My classes are special because of the students in them," Greene said. "We are student-led and student-driven, and I am their support. This is an excellent opportunity for students because they have to create a plan and then work with it. They have to deal with all the setbacks and the hiccups. They get to see what they can truly do, which is always more than they believe."
Greene is always looking to improve and add to his programs. During the 2021-22 school year, he plans to start an eSports team at Franklin High. He is also working on a program called K-PHD that will allow students to earn college credit toward a data science degree while still in high school.
"I always have goals and ideas, and so do my students," Greene said. "I do my best to stay at the cutting edge of where the job market is, so my students are strategically placed to lead in their fields."
Ravenwood High computer science teacher Peter Mueller was also one of the finalists for the NTC Technology Educator of the Year Award.
Offers for you
Support our publication by shopping here
Soltea
Improve Your Heart Health with All-Natural Soltea Daily Supplement – Click Now to Save 25% Off Your First Order
All-Natural Heart Health Supplement – Save 25% Now

CodeMonkey
Coding for kids! Introducing programming games for the next generation. Get your kids coding today.
Start with a free trial.

Tally
Overcome your credit card debt with Tally. Consolidate and save money while you pay it down.
Get started with Tally today.

Truebill
Lower your bills and stay on top of your financial life with Truebil, the app that helps you save every day.
Take control & start saving money!

Brigit
Know your spending habits, anticipate overdrafts, and get up to $250. Only takes 2 minutes. No credit check.
Get your finances on track.

Acorns
Acorns helps you grow your money. Take control with all-in-one investment, retirement, checking and more.
Get a $5 bonus when you sign up.
Gabi
The easiest way to compare and save on home and auto insurance. Match coverage, compare rates and save.
Find hundreds in savings now!

Grow Credit
Grow Credit is a free Mastercard you can use to pay your subscriptions while you build credit.
Start building your credit today!