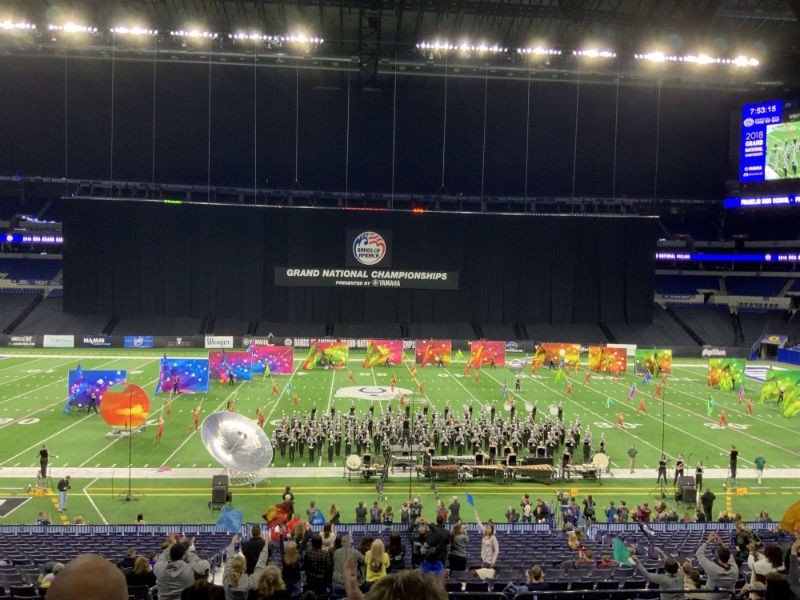 The Franklin Band took 3rd place in Class AAA at the Bands of America Grand Nationals Championship held November 8-10 at Lucas Oil Stadium in Indianapolis.
Of the 108 bands that competed in preliminary rounds on Thursday and Friday, Franklin placed 10th overall and was among the 37 top-scoring bands from all classes that advanced to semi-finals on Saturday. Franklin's prelim score of 89.12 was the highest the band has ever scored at a Bands of America event.
In addition to 3rd place in Class AAA, Franklin's semi-finals performance earned 17th place overall.
Franklin's 2018 production, Out There, included Prelude in C Sharp Minor, Piano Concerto No. 2 Movement II and III, and Symphonic Dances Movement III by Sergei Rachmaninov, and "All By Myself" by Eric Carmen. The band's Grand Nationals performances marked the successful conclusion of a season that included winning 2nd place at the Bands of America Tennessee Regional Championship, along with the Outstanding Visual Performance award; and being named Grand Champion at the 56th Annual Contest of Champions. At Contest of Champions, the band also defended its Tennessee State Marching Band Champion title, bringing home the prestigious Tennessee Governor's Cup trophy for the 7th time.
The Franklin Band is under the direction of David Aydelott and Jacob Campos and color guard directors Levi Brandenburg and Michael Horvath.
Offers for you
Support our publication by shopping here
Soltea
Improve Your Heart Health with All-Natural Soltea Daily Supplement – Click Now to Save 25% Off Your First Order
All-Natural Heart Health Supplement – Save 25% Now

CodeMonkey
Coding for kids! Introducing programming games for the next generation. Get your kids coding today.
Start with a free trial.

Brigit
Know your spending habits, anticipate overdrafts, and get up to $250. Only takes 2 minutes. No credit check.
Get your finances on track.

Acorns
Acorns helps you grow your money. Take control with all-in-one investment, retirement, checking and more.
Get a $5 bonus when you sign up.
Gabi
The easiest way to compare and save on home and auto insurance. Match coverage, compare rates and save.
Find hundreds in savings now!

Tally
Overcome your credit card debt with Tally. Consolidate and save money while you pay it down.
Get started with Tally today.

Grow Credit
Grow Credit is a free Mastercard you can use to pay your subscriptions while you build credit.
Start building your credit today!

Truebill
Lower your bills and stay on top of your financial life with Truebil, the app that helps you save every day.
Take control & start saving money!