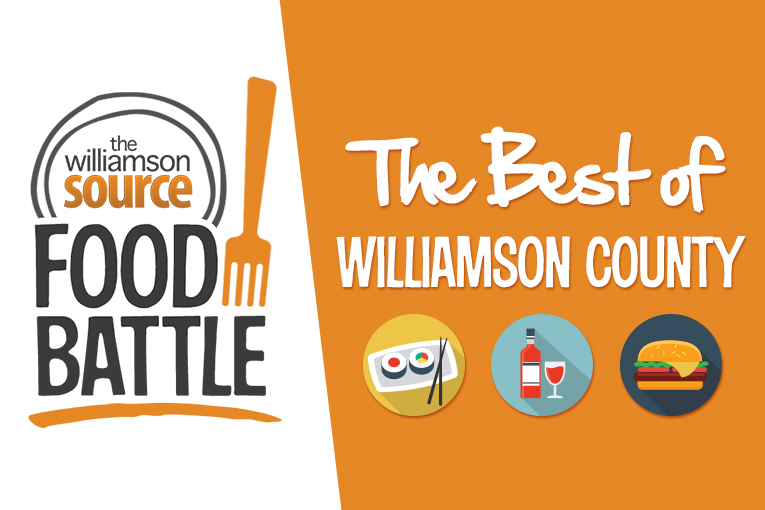 Other businesses will be listed as sponsors, but the WilliamsonSource.com Food Battle is produced by WilliamsonSource.com, a digital publication of Verge Network, Inc. DBA Williamson Source and WilliamsonSource.com, which is solely responsible for its content.
The object of the WilliamsonSource.com Food Battle is, together with the assistance of the public, to select the best restaurants in various categories of foods. Food Battle will focus on several different categories each month, and a public voting period will begin on or about the 1st of each month, concluding after approximately 3 weeks.
The editorial staff at WilliamsonSource.com will determine an initial group of nominees for each Food Battle; nominees should be based in (or within a short distance of) Williamson County, and regularly feature menu items related to the topic of that particular Food Battle. Additional nominees may be added if requested by the public or a restaurant, at the discretion of the editorial staff at WilliamsonSource.com based on the general nomination criteria.
Voters are requested to be readers of WilliamsonSource.com and/or patrons of nominees in the Food Battle. Please limit votes to one vote per person, per day. By participating as a voter, you agree to be bound by these ground rules and the decisions of the WilliamsonSource.com editorial staff (and its authorized representatives) concerning the administration of the Food Battle and interpretation of these ground rules, which shall be binding and final in all respects. All Federal, State, and local laws and regulations apply. Void where prohibited. The Terms of Use and Privacy Statement for users of WilliamsonSource.com apply.
Each Food Battle public voting period will have a designated end time published on the voting page. Without limitation, WilliamsonSource.com reserves the right in its absolute discretion to refuse, disqualify, or withdraw any voter and/or vote(s) at any time during or after the public voting period, including without limitation for obvious lack of good faith, noncompliance with these ground rules, or foul play. If WilliamsonSource.com has reason to believe that a voter utilizing fraudulent or deceptive voting methods, or that votes are not authentic (results of spamming, phishing, robotic voting, or other efforts to circumvent the ground rules), all such votes may be disqualified and removed.
Nominees may utilize resources like customer e-mail, social media, point-of-purchase promotional materials, and other reasonable forms of communication with customers to
encourage them to vote. However, nominees believed to be encouraging voters to defraud the ground rules may be disqualified and removed from Food Battle at the sole discretion of WilliamsonSource.com.
WilliamsonSource.com disclaims any responsibility and/or liability relating to or arising from disagreements amongst persons or entities with respect to their votes or the results of the Food Battle. All decisions made by WilliamsonSource.com shall be final.
Following the public voting period, the final vote will be verified by WilliamsonSource.com and published. Winners in each category will receive recognition and an award. Prizes have no cash value, and are non-transferrable.
Any questions or concerns about the WilliamsonSource.com Food Battle may be directed via e-mail to info@WilliamsonSource.com.
By participating in the WilliamsonSource.com Food Battle, nominees, voters, and winners hereby each agree that the officers, directors, shareholders, employees, advisors, assignees, agents, licensees, and representatives of Verge Network, Inc., its sponsors, and all others associated with the development and execution of Food Battle, as well as each of their respective parent(s), subsidiaries, affiliates, and/or related companies shall have no liability and shall be held harmless in respect of any and all manner of threatened or actual actions, causes of action, suits, debts, covenants, contracts, claims, and demands, including legal fees and expenses, whatsoever, arising now or in the future, including but not limited to, claims based on negligence, breach of contract and liability for any physical injury, bodily injury, death, disability, or property damage or any other loss which the nominee, voter, or winner, or his or her administrators, heirs, successors or assigns might have or could have, by reason or arising out of the entrant's participation in the Food Battle, and/or in connection with the acceptance, possession, use or misuse, of any award, whether or not caused in whole or in part by the negligence of one or more of the released parties identified herein. WilliamsonSource.com shall not be responsible for or bear any liability for: (i) late-received, lost, unintelligible/illegible, incomplete, delayed, destroyed, or misdirected votes; (ii) Votes which fail to comply with these ground rules; and (iii) any failure of the www.williamsonsource.com website during the public voting period, including any problems or technical malfunction of any computer online systems, servers, access providers, browser, server or any other hardware or software incompatibility, computer equipment, software, failure of any e-mail, vote to be received, due to without limitation technical problems or traffic congestion on the Internet or at any website, human or technical error, incompatibility, or any combination thereof including any injury or damage to voter's or any other person's computer related to or resulting from participating in Food Battle, all of which may affect a voter's ability to participate in the Food Battle. Nominees, voters, and winners (and their representatives) acknowledge that WilliamsonSource.com has neither made nor is in any manner responsible or liable for any warranty, representations or guarantees, express or implied, in fact or in law,
relative to any award (or component thereof). ALL ISSUES AND QUESTIONS CONCERNING THE CONSTRUCTION, VALIDITY, INTERPRETATION AND ENFORCEABILITY OF THESE GROUND RULES OR THE RIGHTS AND OBLIGATIONS OF NOMINEES, VOTERS, WINNERS, OR WILLIAMSONSOURCE.COM IN CONNECTION WITH THE FOOD BATTLE SHALL BE GOVERNED BY AND CONSTRUED IN ACCORDANCE WITH THE INTERNAL LAWS OF THE STATE OF TENNESSEE WITHOUT GIVING EFFECT TO ANY CHOICE OF LAW OR CONFLICT OF LAW RULES OR PROVISIONS THAT WOULD CAUSE THE APPLICATION OF ANY OTHER STATE'S LAWS. As a condition of participating in Food Battle, each participant agrees that any and all disputes that cannot be resolved between the parties and causes of action arising out of or connected with Food Battle shall be resolved individually, without resort to any form of class action, exclusively before a court located in Williamson County, Tennessee, having jurisdiction. Further, in any such dispute, under no circumstances will participant be permitted to obtain awards for and hereby waives all rights to claim punitive, incidental, or consequential damages, including reasonable attorneys' fees, other than participant's actual out-of-pocket expenses (i.e., costs associated with entering this Food Battle), and participant further waives all rights to have damages multiplied or increased.
WilliamsonSource.com may terminate, modify, or suspend any Food Battle at any time and may amend these ground rules or the administration of the Food Battle without notice in its sole discretion in any commercially reasonable manner. WilliamsonSource.com shall not be liable to any person or entity for failure to execute any or all aspects of the Food Battle by reason of any act of God, any action(s), regulation(s) order(s) or request(s) by any governmental or any quasi-governmental entity (whether or not the action(s), regulation(s), order(s), or request(s) prove(s) to be invalid), public health crisis, equipment failure, terrorist acts, cyber attacks, earthquake, war, fire, flood, explosion, unusually severe weather, hurricane, embargo, labor dispute or strike (whether legal or illegal), labor or material shortage, transportation interruption of any kind, work slow-down, civil disturbance, insurrection, riot, or any similar or dissimilar event beyond its reasonable control.