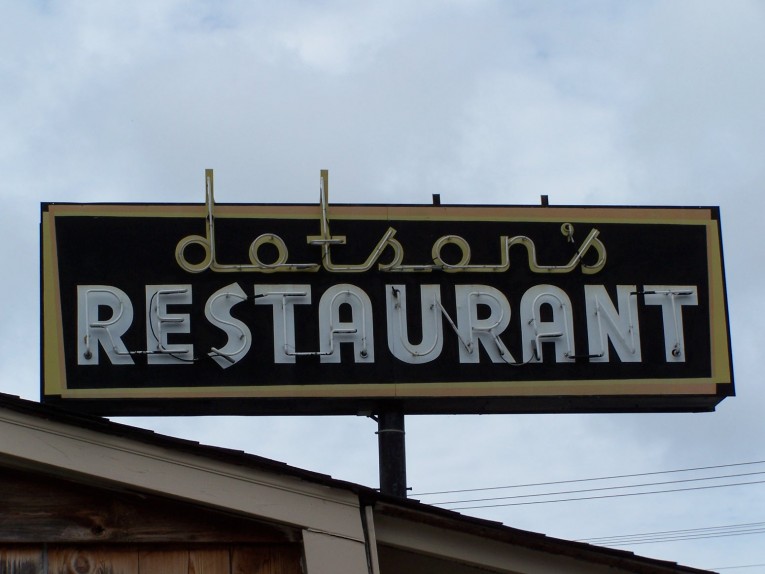 Dotson's Restaurant, a famous diner, in downtown Franklin closed its doors on Dec 30, 2014. Since then, those driving by could still see the restaurant at the corner of East Main and 1st Ave S. Tuesday, the well known sign came down.
Mindy Tate, Executive Director at Franklin Tomorrow captured this photo and writes on her Facebook that she spoke with the man who took the sign down, "although not authoritative in his knowledge, the gentleman said it was going to be refurbished and then to somewhere in Hendersonville, he thought."
Harpeth Associates LLC principal Rod Heller and builder Jay Franks have been acquiring land since 2001 for the block between Main and Bridge streets and between First and Second avenues for the Harpeth Square Development, which would include 155 luxury apartments, a 100-200 room boutique hotel, retail space and a parking deck.
"The one thing we don't have downtown is a destination hotel," Heller said. "We desperately need it. Franklin is a gem, but looking at this block, it's a mess. I was astonished that nobody was doing anything," Heller said. "Usually, you worry about, 'Where are my amenities?' Here, Franklin is the amenity."
In March 2015, the Harpeth Square Development was initially approved. The commission voted down the plans a month later, based on the overall size, look and scale of the project. But revised plans, which changed some things in the way of the outside design look, such as a painted and recessed fourth story, were presented and the project was once again approved by the Historic Zoning Commission in a 4-3 vote in May 2015.
[scroller style="sc1″ title="More on Harpeth Square Development" display="tags" tags="harpeth-square" number_of_posts="8″ auto_play="5000″ speed="300″]