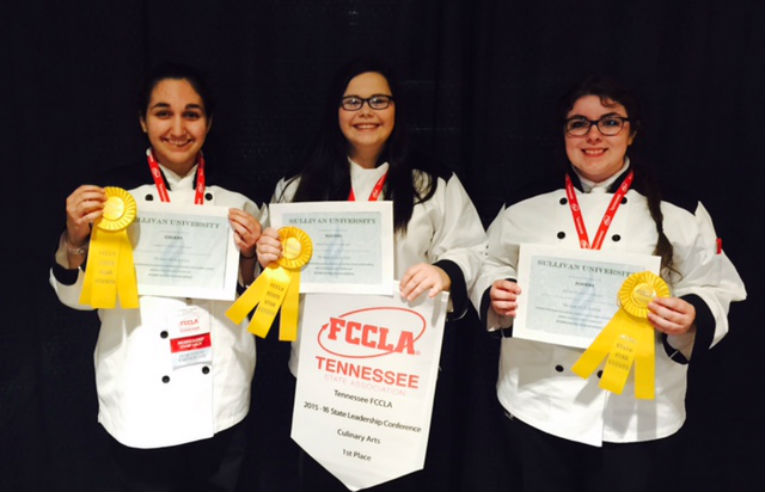 Things are really cooking at Summit High School where students in the culinary arts program just won a first place Students Taking Action with Recognition (STAR) award at the Tennessee Family, Career and Community Leaders of America (FCCLA) Conference in Chattanooga.
The students are Lindsay Trigona, Kaitlynne Bivings and Dallys Highfill and their teacher is Marsha Johnson.
STAR events are competitions in which members are recognized for proficiency and achievement in chapter and individual projects, leadership skills, and career preparation. For their event, the Summit students were given two hours to plan and prepare a three-course meal. The Summit team faced the challenge of cooking against eight other districts in Tennessee  and being judged by professional chefs on team safety, sanitation, organization, food production techniques and of course, food taste and presentation.
The girls were given a market basket of raw ingredients and expected to prepare from scratch their own version of spinach salad with balsamic vinaigrette, chicken picccata with glazed carrots, orzo with basil and for dessert, lady finger cookies, marscarpone cheese, orange, whipping cream and fresh berries. Two identical plates of each course with simply, elegant garnishes were presented to tasting judges at the end of the competition. In spite of being one of the youngest teams in the competition, the Summit chefs received the highest score of any team and were awarded a gold medal to recognize their excellence and outstanding accomplishment.
This is the second time Summit High School has won the state culinary competition since it's opening in 2011. In addition to each member of the team being awarded more than $10,000 in college scholarships from two prestigious culinary universities, they have been invited to represent Tennessee in the national FCCLA Culinary Arts contest at the San Diego Culinary Institute in San Diego, California.
In order to attend the national competition, the team must raise $4,000. They will be preparing and serving food at events such as the Franklin Rodeo, Berry Farms Brokers Luncheon and the Boys and Girls Club Steak and Burger Dinner this month to help raise money for their trip. Kroger Marketplace will also donate concessions to be sold at the upcoming Longview Elementary Marathon and all proceeds will be given to the team to help defray student expenses to attend the national contest in San Diego.
[scroller style="sc1″ title_size="17″ display="cats" cats="45″ number_of_posts="12″ auto_play="5000″ speed="300″]