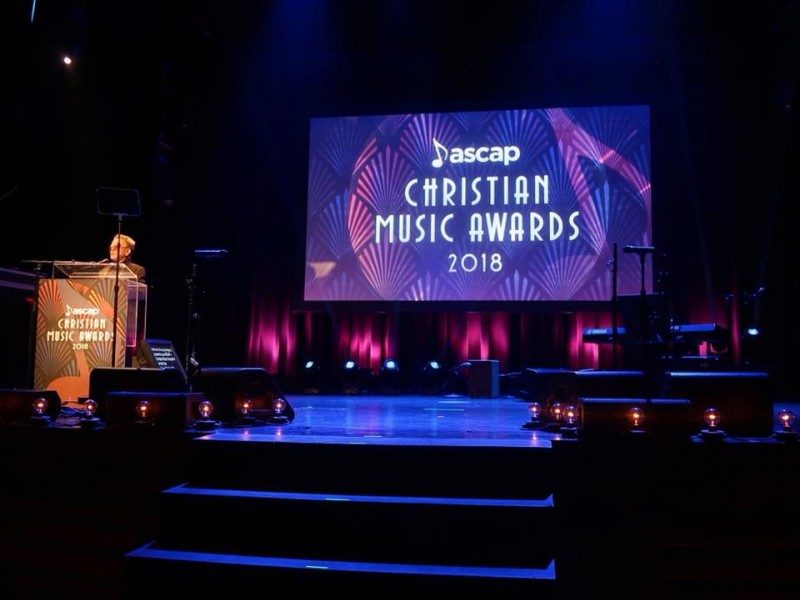 The Christian music industry's top songwriters, stars and executives gathered to celebrate the 40thannual ASCAP (American Society of Composers, Authors and Publishers) Christian Music Awards on Monday, October 15 at the Franklin Theatre in downtown Franklin. Awards were presented for the most performed Christian music songs over the last year, with top honors going to:
ASCAP Christian Music Songwriter of the Year: Colby Wedgeworth
ASCAP Golden Note Award: Twila Paris
ASCAP Christian Music Song of the Year: "Even If," written by David Garcia, Ben Glover, and Crystal Lewis; published by 9 T One Songs, All Essential Music, Capitol CMG Publishing Group, Crystallized, D Soul Music, Let's Be Beautiful
ASCAP Christian Music Publisher of the Year: Capitol CMG Publishing
ASCAP Partners In Music Award: Gospel Music Association
This was Colby Wedgeworth's first ASCAP Christian Songwriter of the Year honor for his five most-performed songs including "Beloved," "Old Church Choir," "Unfinished," "Whole Heart" and "Word of Life."  Wedgeworth was the 2017 recipient of the ASCAP Song of the Year honor ("The River") and is also this year's leading Dove Awards nominee with eight nominations. We spoke to Wedgeworth just before the event, Wedgeworth shared.
"It's so much fun to hang out with our friends. If you would've told me at ten years old that I would be here nominated for Songwriter of the Year, I would've freaked out." When we asked about songwriter inspirations Wedgeworth mentioned multi-time winner Ben Glover saying  "Someone I get to work with closely now is Ben Glover, he is a close dear friend of mine and I remember doing a Google search on Ben Glover about three years ago. I had no idea who he was and I see all of these pictures and awards- now we are like best buds."
Dove Award-winning recording artist and songwriter Steve Green bestowed singer, songwriter and author Twila Paris with the ASCAP Golden Note Award, which honors songwriters, composers and artists who have achieved extraordinary career milestones. To mark the occasion, Selah treated the full house to a medley of Paris's signature songs as well as one of her biggest hits, "How Beautiful," after she accepted the award.
The songwriters and publishers of "Even If" received the ASCAP Christian Music Song of the Year Award. Co-writer and five-time ASCAP Christian Songwriter of the Year Ben Glover performed a moving version of the song solo with acoustic guitar.
Capitol CMG Publishing claimed the ASCAP Christian Music Publisher of the Year Award for the 16th consecutive year with an impressive seven award-winning titles ("Even If," "Forgiven," "Live Like You're Loved," "Love Broke Thru," "Oh My Soul," "The Gospel," "Unfinished."). Capitol CMG Executive Vice President Casey McGinty and his team were on hand to accept the award.
The Gospel Music Association was honored with the ASCAP Partners in Music Award for their role in bringing attention to the work of Christian songwriters. GMA Executive Director Jackie Patillo accepted the award, which recognizes an ASCAP licensee who has shown exceptional dedication in presenting ASCAP members' music to the public.
A total of 19 most-performed song awards were presented during the show, while invited guests enjoyed additional live performances from Matthew West, Jason Houser and A.J. Pruis ("Broken Things") and the choir from Dickson, Tennessee's First Baptist Church ("Old Church Choir). Loren Patterson, a seven-year-old member of the choir, became an accidental media star when a video clip of her dancing during a performance of "Old Church Choir" went viral, impacting viewers around the world.
Watch a clip of First Baptist Church in Dickson children's choir below that has accumulated over 50 million views.
Notable artists in attendance included Ryan Stevenson, David Dunn, David Crowder, Unspoken and Emily Weisband.