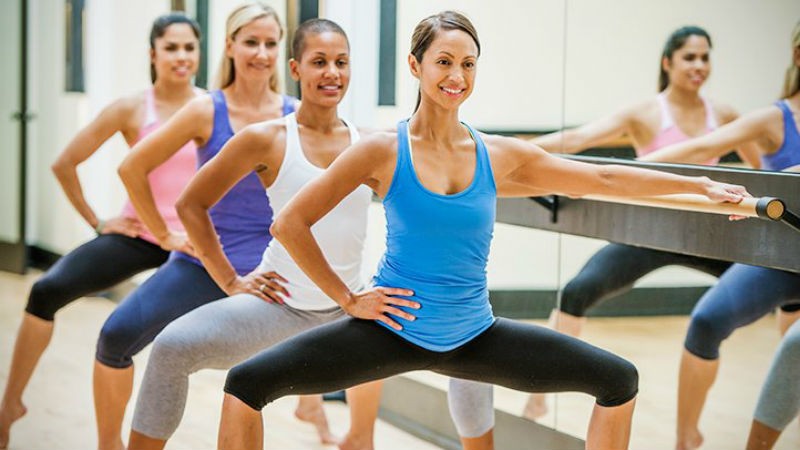 One exercise style that has grown exponentially over the last several years is Barre Exercise classes. Barre is specifically created so that you are balancing yourself by using a ballet barre as a prop while doing the exercises. Most classes use a combination of ballet, yoga, and Pilates-inspired exercises, postures, and holds in order to focus on strengthening the core through holds and high repetition of small movements that covers a range of motion. They also often use light handhelds weights and mats, for those that are comfortable with it, to target core work areas.
Benefits of Barre include improved posture, muscle definition, weight loss, increased flexibility, and reduced stress overall. It is also one of the few exercises that tends to be approved for women who are pregnant as it is a low impact workout that can help with imbalance issues and improving stability.
As with any typical exercise class, you can expect a warm-up and a sequence that will focus on your upper body from free weights, push-ups, planks, and moves that target specific parts of your arms and abdomen. This is followed by exercises with the barre that focus on the muscles of your lower body from your thighs, lower legs, and seat. Throughout the entire class, your core is engaged and then focused on specifically at the end. Then you'll return to a cool down period comprised of a series of stretches that focuses on increasing flexibility and muscle recover. Most classes tend to be an hour long.
Locally, you can find Barre classes at Brentwood Family YMCA (207 Concord Rd), Maryland Farms YMCA (5101 Maryland Way) and the Franklin YMCA (501 S Royal Oaks Blvd).
The class at Brentwood Family meets on Monday mornings at 8:25am and Wednesday mornings at 8:25 am. and 10:45 am, Tuesday and Thursday evenings from 5:30 pm-6:30 pm, and Friday mornings at 10:45 am.
Maryland Farms YMCA has several different levels of the class including an aqua barre class, but the basic barre class meets Mondays -Thursdays and Saturdays. Monday and Wednesday the start times are 6 am and 6:15 pm. Tuesday and Thursday the times are 8:30 am and 11:00 am. Saturdays class is held at 9:15 am.
At the Franklin YMCA, you can take a Barre class Mondays at 12 pm, Wednesdays 5:30 pm and Friday mornings at 8:30 am.
For more information, visit the YMCA website for the Brentwood Family or for the Maryland Farms locations, or you can visit them in person.
Find a YMCA near you: