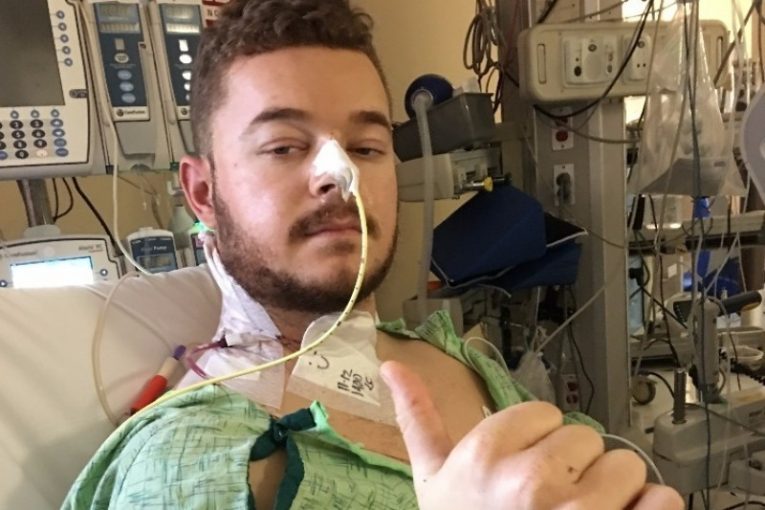 By SAMANTHA HEARN
Last weekend Brentwood High graduate Austin Stuck was the victim of a home invasion in East Nashville, surviving being stabbed five times with the help of his friends and the medics who responded.
On Saturday, Nov. 12, Austin, age 24, had fallen asleep on the couch at his apartment in East Nashville near Five Points when an intruder broke in and stabbed him. His roommates heard him, rushed downstairs and performed CPR, applied pressure to stop bleeding and alerted medics and police.
Austin was rushed to the Vanderbilt trauma unit and underwent emergency surgery. His right carotid artery was severed, affecting blood supply to that side of the brain from the time of the injury to his hospitalization. This caused him to have a small stroke near the motor cortex in the right lobe of his brain. The surgeons were able to tie off his right carotid artery and have since been keeping his blood pressure high so the left carotid can work double time.
"Since the right side of the brain controls the left side of the body and his motor cortex was his, he is currently dealing with left sided hemiparsis," his sister, Lindsay Kuhn, said.
Hemiparesis is weakness or partial paralysis of the left side of the body.
"This is a common finding for right sided strokes," Kuhn said. "He currently has limited up and down movement in his left leg, a weak grasp in his left hand and no shoulder movement. The right side of your brain also controls part of cognition, like memory, attention, impulsivity, personality and other executive functions. It's difficult to fully assess if any of these areas have been impacted quite yet, but our initial impressions have been that Austin is the same old Austin he's always been. He's even been able to crack a few sarcastic jokes."
What's amazing about Austin's recovery is that he received 14 units of blood. The human body only has about five to six units in it at a time.
"His head surgeon told us that he woke up the next night thinking about Austin's story because he had never seen someone survive that amount of blood loss," Kuhn said. "His neurologist also said that it's amazing that only small portions of his brain showed some cell death given the amount of time it was lacking oxygen and blood flow."
Austin's mother, Bonnie, said that this week Austin is responsive and even talking about sports.
"Austin continues to have his own room complete with a cable TV and a personal bathroom," Bonnie said. "As my mom came into his room this morning, he immediately greeted her with, 'Did you hear KU beat Duke last night?' That's my boy. Concerned about the Hawks even in the hospital."
While Bonnie and her husband, Paul, had to return to work this week, they have gotten updates over the phone from Bonnie's mother and from Kuhn.
"My mom shared that he's able to lift his leg higher than yesterday, however bending it is another story," Bonnie said. "He's also able to make a fist with his left hand and flex his fingers more readily today as well. Arm and shoulder movement continue to be limited."
The police investigation is ongoing, and Austin is not accepting any visitors at the hospital as of now.
The family has created a GoFundMe page to help with the expenses of caring for Austin. With a goal of $40,000, the account has already raised over $32,800 from 372 people in two days. To donate, click here.
Samantha Hearn reports for Home Page Media Group. She can be reached via email at samantha@brentwoodhomepage.com.