By Heather Listhartke
As we close the books on 2016, it's a common time for many to make resolutions. Some resolutions that we can all make is to remember to show kindness, compassion, mercy and forgiveness to others. As we help our communities and love one another, it brings to light the true depth and sincerity of humanity and can help us even through the hardships that we all face. Here are seven verses to remind us of this in the new year:
2 Corinthians 9:11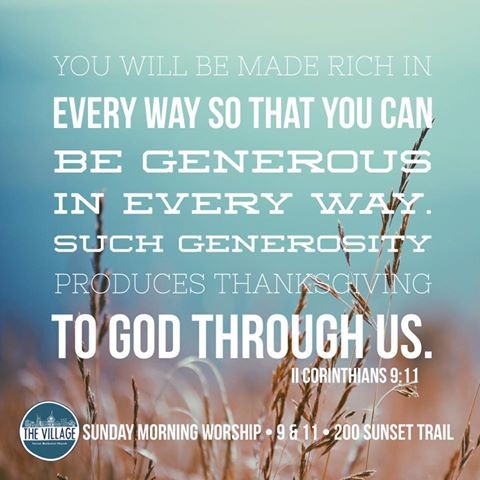 Be generous to those in need through the way that you lead your life. This means not only donating time to support your community, but donating to charity. When you lead your life giving generously, this enriches the quality of your life and the lives of those in the community around you. When the community supports each other, this brings glory to God as those in need give thanks.
Matthew 18:3
This response to a question asking "who will be the greatest?" shows us to be humble. Jesus responded to the question by bringing a child and telling them that those who humble themselves are the greatest in the eyes of God. Those that are humble put others first before themselves, listening first, then speaking mindfully and intentionally. They also know when to ask for help when they need it and to give help when they can.
Colossians 3:12-17
This selection of verses demonstrates the virtues of Christ. It tells us to be compassionate, kind, humble, gentle, and patient. However, it dwells on forgiveness perhaps because this is one of the hardest for us to do, and then finally it tells us all the virtues are bound together by love. When we live our lives to the fullest, we exhibit these virtues and follow them as a guide for how we treat others.
This is especially important for us today. As we go about our day-to-day tasks, taking care of our families and responsibilities, we often forget to lean on our friends and support when we need it most. It is much easier to deal with hardships when you have a person to lean on rather than trying to handle it by ourselves.
John 13: 34-35 
It is too common for those in our society to isolate others with hateful language. As we deal with the changes that are approaching, it is even more important for us to care for people and love them. Loving others shows the true heart of who we are, and will bring us closer together as a community.
Romans 12:9-10
When we love sincerely, all the rest of the things follow. Loving sincerely doesn't just mean performing what we think is required of us, but doing the required actions with love in our hearts to help those around us. These actions from our heart automatically dictate that we hate evil things and cling to good things. When the love is truly severe we also love each other as family and treat them as we would our closest family. These actions seek to help and honor others, and doing them from a sincere love means honoring them above seeking honor for ourselves.
Psalm 126:5

Even though we may be going through tough times, if we continue to toil through the hardships, there will come a time when we will have joy and an abundant life. We should always be hopeful and see the good things even during this time, for when we get through those hardships, the good things to come will be far above our imaginations.
As it was often said, love is the greatest of the virtues, and if we love one another, we can bring happiness to our neighbors even the most difficult situations.
This article is brought to you by The Village Church.
The Village Church meets Sundays at 9 and 11 am at Sunset Middle School on Sunset Trail in the Lenox Village/ Nolensville community. For more information on their church, you can visit their website or Facebook page.